What is Blendflex?
The BlendFlex model is an innovative course delivery method that offers Face-to-Face, Online, and Hybrid student experiences running simultaneously. NSU BlendFlex attendance options include attending: on campus in a traditional classroom setting, from a remote location (regional center, home, work) using videoconferencing type technologies including Zoom as well as the LMS Canvas.
Sign up for Training
Register for a BlendFlex interactive training session and learn how to deliver face-to-face and online learning experiences simultaneously.  After this mandatory online faculty training, you will be able to do the following:   
Discuss theBlendFlex

M

odel

 for teaching and learning at NSU. 

 

Identify technology and software components ofBlendFlexclassrooms. 

 

Implement theBlendFlex

M

odel

 to deliver content, engage, and assess students. 

 

Identify best practices of teaching in theBlendFlex

M

odel

. 

 
To register for a BlendFlex session, visit our LEC Calendar.
For instructions about registration through TrainCaster check out this document or this video.


BlendFlex Training Self-Paced Course

The Learning and Educational Center (LEC) is pleased to announce the release of the new Self-Paced "Teaching in the BlendFlex Model" online training.  The asynchronous course consists of four modules and should take approximately 90 minutes to complete.   
Each module includes previously recorded sections of the live training as well as interactives.  Of particular note is the Module 2 simulation. The interactive representation of the Zoom dashboard includes a hands-on walkthrough of how to use the cameras as well as 4 suggested tools that can be used for student engagement.   
 After successfully completing all four modules and a final quiz, the instructor will be awarded a certificate of completion.   
The course is now available and directions on how to self-register can be found here. Below is a link to a video walkthrough to help guide you register for the new Self-Paced BlendFlex Training.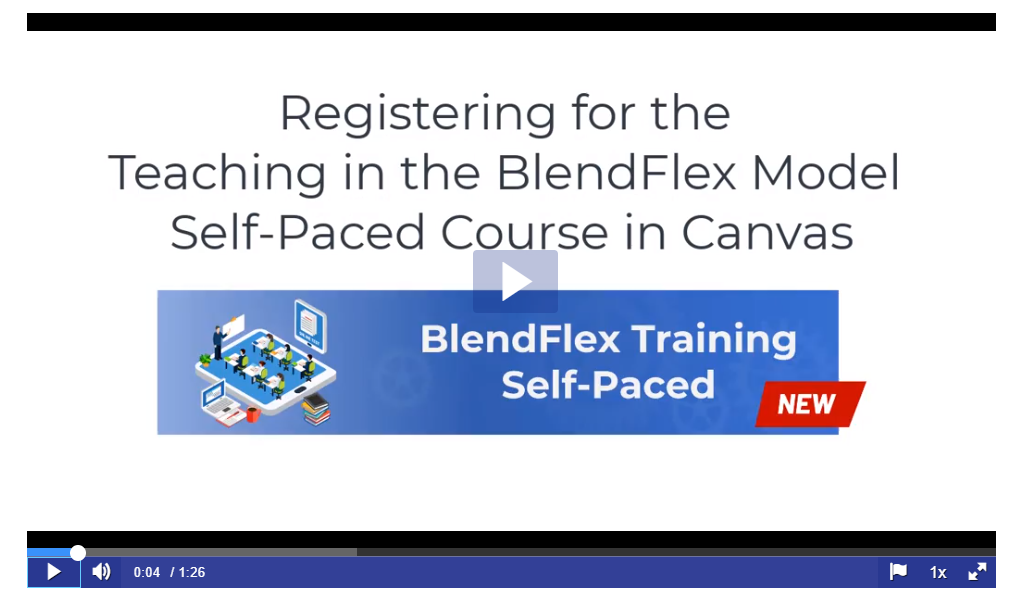 We are continuing our Zoom based live training of Teaching in the BlendFlex Model and there are 5 more opportunities to join our sessions. Either the Zoom based live training, or the Self-Paced course meets the requirements. 
Resources
Planning is one of the most important steps in teaching a BlendFlex course successfully.  Use these resources to help prepare and deliver courses.
Read this article by Brian Beatty, Associate Professor of Instructional Technologies at San Francisco State University.  "Can HyFlex Options Support Students in the Midst of Uncertainty?"
This Engagement Strategies Chart helps connect the appropriate platform tool with course learning objectives
This Blendflex Planning Template can be used to determine whether any teaching modifications are needed to meet course objectives.
The Using Zoom for Hybrid Learning documentation will provide the steps to access and operate Zoom for BlendFlex courses.
The Using Zoom for Hybrid Learning In Canvas documentation will provide the steps to access and operate Zoom with Canvas integration.
Get Support
For technical help with your Blendflex courses, contact OIIT at
remotehelp@nova.edu
 or 954-262-0070.
For teaching and learning support with your Blendflex courses, contact the Learning and Educational Center at
lec@nova.edu
.