Global Navigation
All of NSU's internal pages contain a set of global navigation links to the right of the NSU branding logo (logo can also be used to return to our main page).

The global navigation links are:
Undergraduate

 

- Contains information regarding admissions, financial aid, student life, and academic degree offerings.
Graduate & Professional

 

- Contains information regarding our masters, doctoral, professional, certificate, and continuing education program offerings.

 



Academics - Provides access to all of the University's degree and program offerings, list of colleges and schools, institutes, online education, and catalogs/brochures.
Student Life - Explore student life at NSU through our athletics, residential living, clubs and organizations, and our performing and visual arts programs.
Research

 

-

 

Explore some of the innovative research being conducted at NSU.
Community

 

-

 

NSU is committed to community service through a variety of programs. Explore our Health Care Centers, Libraries, and our Museum of Art
About NSU

 

-

 

Learn about our history, accreditation, and our plan for the future. Explore are campus locations, contact us, get directions, or schedule a campus visit!
Search Box

All internal pages contain a search box on the top right, where you can search all of our pages. Nova Southeastern University currently utilizes Cludo, a powerful site search & content enablement platform. Our search allows users to quickly search our Web pages.
Breadcrumb Trail

All of our internal Web pages feature a linked map of where you are within our site's structure from our home page. The breadcrumb trail is found directly below the section image of the page. The trail can be used for navigating back to our main home page or back to an important section that you are visiting.
Footer Quick Links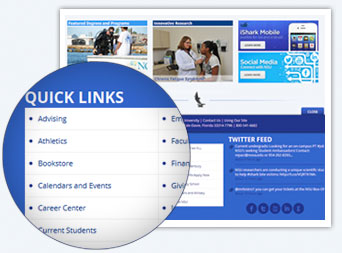 On all internal Web pages you will find a "Quick Links" menu in the footer. The "Quick Links" menu contains our most utilized resources.