The Bursar's Office is responsible for collecting university tuition and fees, issuing student refunds from financial aid funds, sending invoices and receipts, and making student educational tax data available.
The Office of the University Bursar is located in the Horvitz Administration Building, 1st floor, on the Fort Lauderdale/Davie Campus, 3301 College Avenue, Ft. Lauderdale-Davie, FL 33314. 
News and Announcements
NSU Payment Plans Available Online in NSU eBill
Payment for tuition, fees, and other institutional charges is due in full at the time of registration. The NSU Online Payment Plan is a payment option designed to provide budgetary assistance in meeting a student's semester education expenses. Domestic NSU students who wish to defer their payments for the semester, may enroll in an NSU Payment Plan. If you are an international student, you may avail yourself of Flywire to create your own payment plan with flexible payment dates that work best for you. 
Eligibility Requirements for NSU Payment Plans:
A student must have a $500 minimum balance to be deferred after all discounts, financial aid awards, resources, and other credits have been applied.
All prior balances must have been paid in full.
A nonrefundable $75 finance charge (enrollment fee) and a down payment is due upon enrollment.
International students are not eligible.
For best results from this feature, registration for classes and financial aid requirements should be complete before enrolling in the plan.
To access the NSU Payment Plan option, log into NSU eBill and click on "Enroll in Payment Plan." For details, visit the bursar's Payment Plan Webpage. 
---
The Ins and Outs of Student Accounts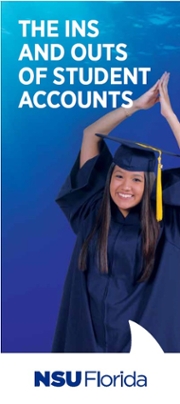 Are you trying to figure out how to manage your student account? Check out our quick reference guide "The Ins and Outs of Student Accounts" to get you started.
If you have remaining questions, we are here to help you take stock of your financial responsibilities and build a positive track record of account management. Visit "Contact Enrollment and Student Services" for a way to get in contact with us that works for you. 
Newly Admitted Undergraduate Students
Students who will be living on campus must settle their accounts before check-in day. Charges for tuition, fees, and student health insurance are posted once you register for classes.
Finalize Your Account for ESS Clearance
---
Tips for Bringing Your NSU Account Current in Time for Registration
As you work through the academic challenges of the semester, time passes quickly. Be aware, however, you will not be able to register for the upcoming semester if you have a balance due on your NSU account. To get a handle on your NSU student account, follow these tips:
 Regularly log in to SharkLink to view your student account on the "My Account" page.


 Click on "Holds" to view if you have any holds that may prevent registration.


Click on the "Finances" tab to verify you have fulfilled all financial aid requirements for timely disbursements.


If you need assistance paying an outstanding balance, consider the following resources: 


We are here to help!