A universal registration process for all students has been implemented where a student must be prepared to pay tuition at the beginning of the semester/term with one of the approved payment methods. These payment options include check, money order, credit cards, authorized financial aid, NSU payment plans, and third party direct billing plans.
All holds must be cleared at the time of registration, and all registrations must be completed by the last date of the university's registration period. Late registration will not be accepted if due to a financial hold that was not cleared prior to the close of registration period.
Registration through SharkLink can be completed for most programs. Graduate students should contact their program office for details on web registration dates. Undergraduate registration dates are published on our Undergraduate Academic Calendars page. If your program does not permit registration through SharkLink, complete a Student Transaction Form (STF) either online or as a PDF. If you choose to complete the PDF form, bring it to your program office or fax it to them. You may find their fax numbers on their individual program websites. All students are also required to complete a Student Enrollment Agreement (SEA) Form each year as part of their registration process. For more information on the SEA, view a copy of the SEA or see our FAQs.
Students must be officially registered prior to the start date of course(s) in order to participate in and receive academic credit for those courses. It is the student's responsibility to review their registration and academic records each semester for accuracy and to promptly notify their program office/advisor of any discrepancies. Students have no more than 20 days from the end of a semester/term to resolve any discrepancies. After that, a student's academic record for the semester/term is sealed.
A student will only be permitted to petition and receive consideration for a retroactive drop, withdrawal, or refund for a course more than 20 days after the end of the semester or term if he or she has extenuating circumstances and provides appropriate documentation (e.g., medical records, death in family, etc.).
HOW TO REGISTER IN SHARKLINK
After logging in to your SharkLink account, you may choose one of the following options to access the registration process in Self-Service Banner (SSB):
OPTION 1:
Click on the Academics tab (circled in red)

Select "Registration - Add/Drop/SEA (highlighted in yellow)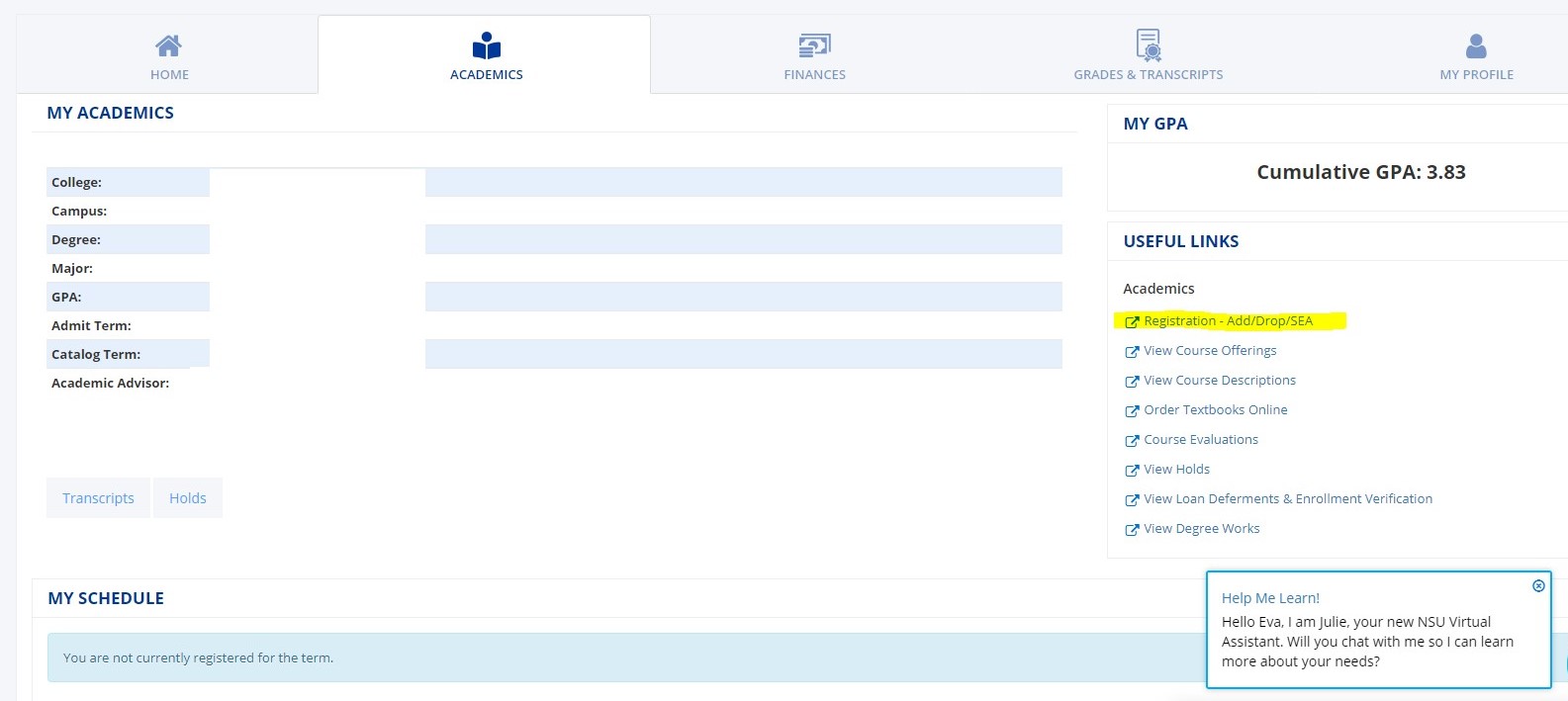 OPTION 2:
Click on SSB (WebSTAR) in the Quick Links section (circled in red)

Regardless of whether you choose Option 1 or 2, the following video explains how to self-register.
FINANCIAL HOLDS
A Bursar Hold prevents all student services including registering for classes, obtaining grades, attaining enrollment/degree verifications, and accessing the University RecPlex until all outstanding balances are paid in full. A Transcript/Diploma Hold will only prevent you from receiving a diploma or an official transcript; this kind of hold will not prevent you from registering for class.
Please take into account that the form of payment determines how quickly a financial hold may be lifted. If your payment is made via credit card, cash, cashier's check, or money order, the hold will be removed the next business day. If you pay by paper check, the hold will be removed 10 business days after posting of the check by the Bursar's Office. Echeck payments will result in your hold being removed within five business days after posting by the Bursar's Office. If your account has been transferred to an outside collection agency or attorney, and you have paid your account in full including collection costs, please call the Bursar's Office at (954) 262-5200. The Bursar's Office will need to review your student account and verify if the financial hold can be removed.
ROSTER RECONCILIATION
Students are expected to attend the first class session in order to receive important information about the course, unless they obtain approval before the first class meeting from the instructor for an intended absence. University policy requires that each faculty member reconciles and validates the accuracy of their class roster during the second week of the semester/term as determined by the approved Nova Southeastern University academic calendar. Any student deemed as a non-attendee may be "drop-deleted" (DD'd) from the class roster by the Office of the University Registrar.
It remains the students' responsibility to monitor class registration status in accordance with the Student Enrollment Agreement (SEA) and their university student handbook policy, regardless of the instructor's roster reconciliation submission.
Students who believe they were reported in error as non-attendees must communicate with the instructor who is the only one able to correct the record.