Congratulations! You made the cut, and you are now ready to learn about NSU's fantastic Benefits package. There are a few key points we would like to share with you so that we can guarantee a seamless experience
You have 30 days from your date of hire to enroll in benefits through your ICUBA Enrollment portal.
Please keep in mind that a premium payment may be missed when enrollment occurs later in the enrollment period. Should this happen, the missed premium will be collected retroactively to your hire date.
---
How to Enroll in Benefits
Single Sign-on From SharkLink Into The ICUBA Enrollment Portal is now available! Use your NSU credentials and the single sign-on from Sharklink, go directly into the ICUBA enrollment portal, elect your benefit plans, access your HRA & FSA account details, find claim and contact information, and print ID cards. How easy is that? Find the new ICUBA SSO in Sharklink!
 DOWNLOAD BENEFITS PRESENTATION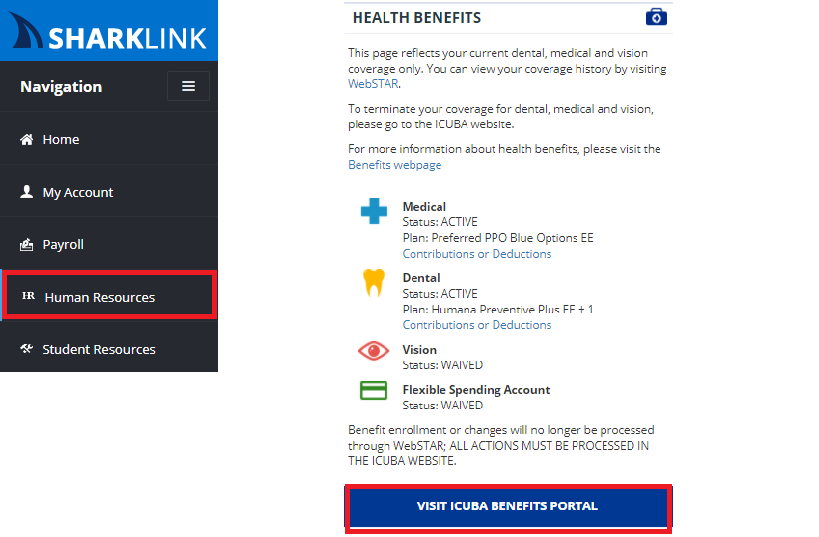 Whether you are a new employee or an employee who has recently become eligible for benefits, the ICUBA Benefit Portal is your go-to resource for managing your medical, dental, vision, flexible spending, and life insurance benefit elections at NSU. The ICUBA Benefit Portal provides single sign-on access to review your medical insurance claims and statements, access flexible spending, prescription pharmacy information, and much more. 
Login to the ICUBA Benefit Portal via Sharklink when you need to:
Make new benefit elections 
Submit a benefit election change request
Update your beneficiaries for life insurance
Review HRA and FSA balances
Review your medical insurance claims from BCBS
Review prescription pharmacy benefits
Access BlueRewards, powered by Rally, and 
SO MUCH MORE!