There are special circumstances, outlined by the Internal Revenue Service, which may allow you to make mid-year benefit election changes, referred to as Qualifying Life Events.
These can include, but are not limited to, changes in your eligibility, changes in your marital status, changes in your number of eligible dependents (birth/adoption), changes in spouse/dependent eligibility such as their gain or loss of other qualified coverage, and certain changes in your employment status. To get a more in depth explanation of what qualifies as a life event, please click HERE.
A Qualifying Life Event can be created 14 days prior to the effective date, but no more than 30 days after. In addition, it must be finalized within 30 days of submission. Any changes made to your benefits must be consistent with each type of life event. Documentation to support the change request must be uploaded to your Employee File in the ICUBA Portal before the life event is reviewed and approved. If documentation is not submitted before the end of the 30-day window, the change request will be denied and rejected.
To initiate a Qualifying Life Event, log in to your ICUBA portal via Sharklink, and click on Life Events under the My Benefits tab. Please follow the prompts until the qualifying life event request has been completed.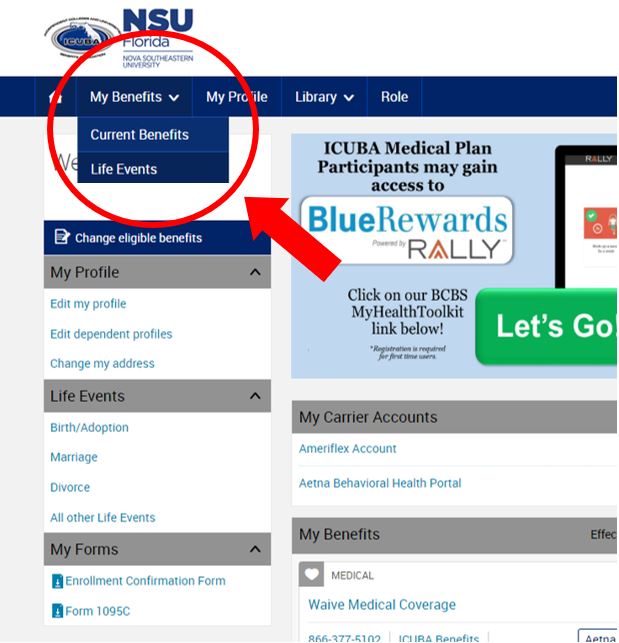 Please note: Select the domestic partner option when the life change pertains to a domestic partner only.
For more information, please contact the benefits department at loa@nova.edu