Have Questions About NSU's Army ROTC Program or How It Will Benefit You As A Student?
Army ROTC is a college elective program that develops leadership skills in students as they prepare for military service. Find answers about topics like what to expect, scholarships and military obligations.
We've compiled this list of questions about the Army ROTC program, dive in to learn why (and how) you should apply to the ROTC.
Enrolling in Army ROTC is not, strictly speaking, joining the Army. You will not be sent to boot camp. You will take an ROTC class for which you receive credit. It's considered a college elective.
However, the primary purpose of the Army ROTC program is to produce Officers. Young adults must serve as Officers in the Army after graduation if they have received an ROTC scholarship, OR if they have enrolled in the ROTC Advanced Course. Enrolling in the ROTC Basic Course during the first two years of college does NOT obligate you to serve unless you have also received a scholarship. For more details, see: Service Commitment.
Leadership and management skills needed to become a U.S. Army officer or have a successful civilian career.
Students in ROTC learn through a unique program that involves both classroom and live situations. For instance, an ROTC cadet might be found leading classmates through adventure training, down a river in a raft, or up a mountain wall.
Did You Know?
The ROTC program in south Florida started back in 1956 at the University of Miami. The program was relocated to Florida International University in January 1996 and was officially activated on July 1, 1996.
The average cadet enrollment in the ROTC Southern Strike" program is over 225 students. The program is also part of the Hispanic Access Initiative established in fiscal year 2003.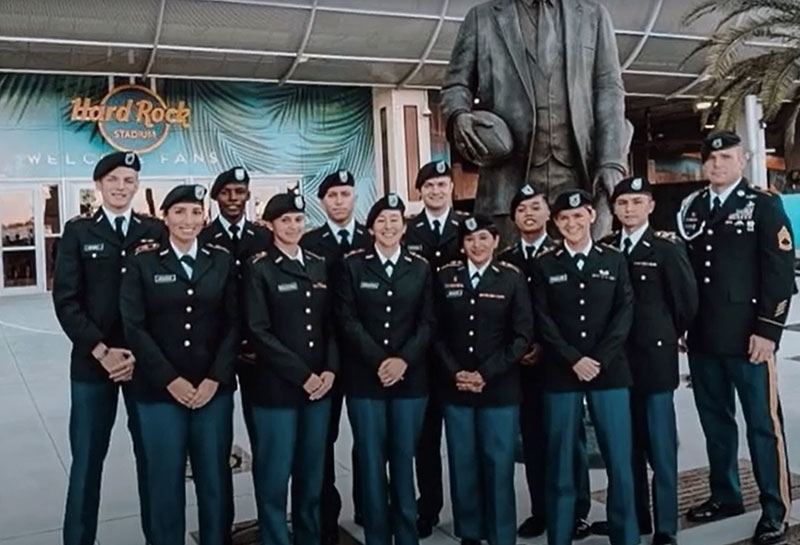 The Battalion now has 7 partnership schools: Nova Southeastern Univeristy, Barry University, Broward College, Florida Atlantic University, Florida Memorial University, Miami Dade College, Palm Beach Atlantic University, and University of Miami.
Join a team that values personal courage, loyalty, integrity, honor, respect and duty.
NSU Army ROTC:
Phone: 954-262-8510 or 954-262-8509
Fort Lauderdale/Davie Campus
3300 S. University Drive,
Fort Lauderdale, FL, 33328-2004
Have a question? Email us.
If you're a high school senior and interested in an Army ROTC 4-year scholarship, apply online:
Follow NSU ROTC