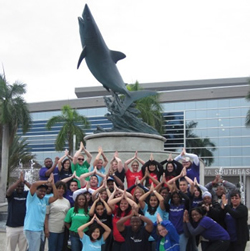 The Student Government Associations (SGAs) at the Regional Campuses work to improve the quality of life for students at NSU's locations away from the main campus. Their purpose is threefold:
To represent the student voice by serving as the liaison between students and NSU administration
To establish a more dynamic and diverse campus by providing programs and events for the student body
To support a wide variety of professional and social clubs and organizations
The SGAs hold monthly open meetings to provide a forum for students to share concerns and provide feedback. All students are invited to these meetings!
Are you interested in getting involved with your Student Government Association? Elections are held each year in December. However, sometimes positions become open during the course of the year – check with your SGA for more details.
To learn about ways to get involved, please contact RegionalStudentAffairs@nova.edu.