WARNING – You Have Just Been "Phished"
You have clicked on a malicious link in your email that is attempting to steal your passwords and other personal information. We have re-redirected you to this page in order to prevent your information from being stolen, or have your computer infected by a virus.
These emails, known as "phishing attacks" come in many forms; we've included a few samples below. These emails will ask you to click on a link which leads to a login page or form. Most of these pages look very realistic and sometimes will include University or Microsoft logos and graphics. DO NOT CLICK THESE LINKS OR SUPPLY ANY INFORMATION. NSU and its affiliates will never contact you via email to reset your password in order to validate your account via an attached link.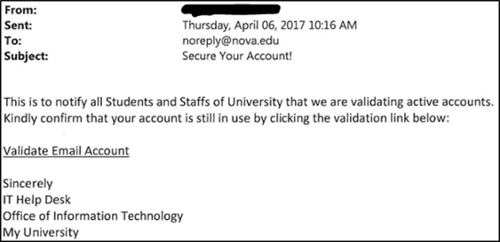 Note the presence of text such as "My University", and no specific mention to NSU.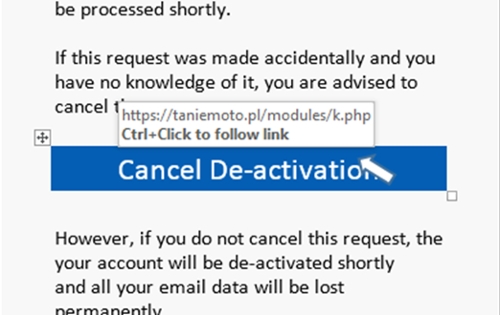 Outlook and most browsers can show you if a link is legitimate via "hovering". Without clicking, move your mouse cursor over the suspicious link. After a few seconds, the address for the link will appear. For almost all phishing messages, you will see that the link leads to a completely foreign address unrelated to NSU.
You can safely delete the phishing message you received, or you can submit it to our antispam system for processing. To submit it for processing, you will need to move the phishing into your "Junk Email" folder. Emails placed there are processed by our anti-spam systems and identifiers from the emails are used to create new rules and restrictions. This should prevent any similar messages from reaching your inbox.
If you previously clicked on a suspicious link and also completed the form, you will need to change your password immediately. For assistance on legitimately changing your password, please contact SSS at ext 2-0777 or 954-262-0777.
Remember, never supply your NSU password to anyone. IT Support will never ask for your password. If you're unsure of the legitimacy of an email, please contact ITSecurity@nova.edu or call the IT Security Hotline at: 954-262-0732.