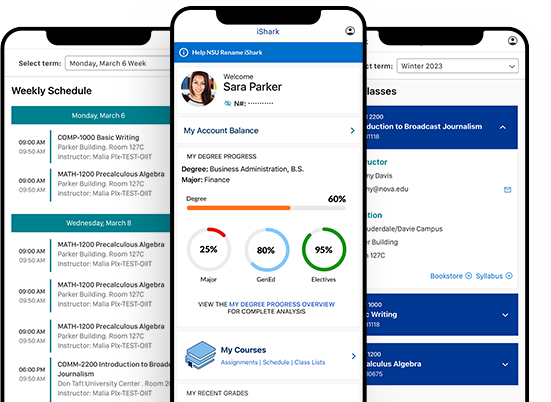 NSU has enhanced iShark with your valuable feedback in mind, customizing it just for you
Introducing the revamped iShark app, meticulously crafted with an unwavering dedication to student triumph. This commitment shines through in its thoughtfully designed interface, meticulously tailored to meet the needs of today's dynamic learners. iShark zeroes in on the tools and resources students rely on most, presenting them in a sleek, intuitive layout for seamless navigation.
What's New
iShark's cutting-edge user experience and extensive personalization capabilities enable students to concentrate on what truly counts: crafting a transformative educational adventure. This latest update facilitates student engagement, achievement, and the optimization of their time at NSU. Here are some highlighted features:
Receive personalized push notifications for timely reminders.
Check your account balance with ease.
Access an overview of your degree progress effortlessly.
Navigate through your courses, assignments, schedules, and class lists conveniently.
Review any holds, final grades, and account balances promptly.
Swiftly access SharkMail for seamless communication.