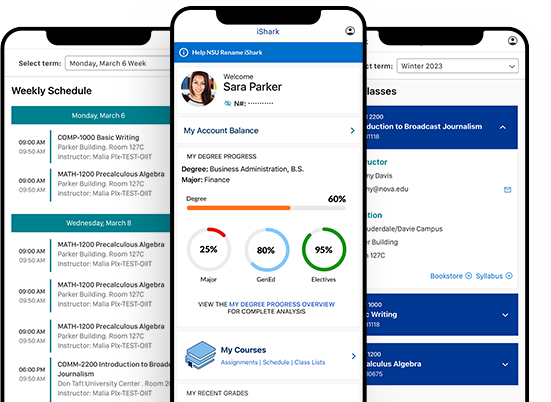 Finally, a mobile app designed with you in mind.
The new release is here. Enhanced functionality, stability, fresh features, and more of what you've been asking for. With enhanced maps you can view building information, real-time parking, live transit information and more.
iShark Mobile app will continuously evolve to enhance your Shark experience.
Tell us what you need. We got you.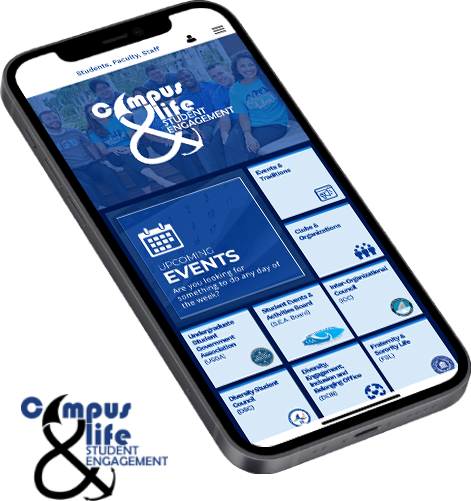 What's New
Campus Life and Student Engagement is now accessible within iShark Mobile. The new Campus Life and Student Engagement module is designed to encourage students to engage with varies opportunities provided by NSU. Here you can download your event pass and connect to Sharkhub. The module consists of the following student groups:  


Student Events and Activities (S.E.A.) Board
Inter-Organizational Council (IOC)
Diversity Student Council (DSC)
Undergraduate Student Government Association (USGA)
Registered Student Organizations
Fraternity & Sorority Life  
This app encourage students to get involved in organizations and programs geared to their interest. A way to make NSU your home and create the ultimate college experience is by getting ENGAGED. Let CLSE help you with that! Your engagement starts here.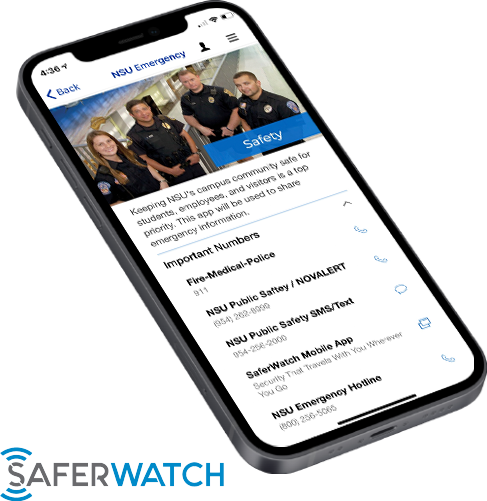 What's New
SaferWatch is now available within the Emergency section of iShark. SaferWatch is a web and mobile based security system built to provide a higher level of safety for individuals and enhance security at NSU Florida. SaferWatch empowers users to report an incident as they see it happening or submit a tip at a later time. SaferWatch provides real-time two-way communication during emergency and non-emergency situations. 
Equip teachers, students, staff, and parents with a tool of preparedness and instant communication.

Control situations from highly dangerous to daily upkeep with a multi-way communication system in the palm of your hands.

Provide a safe environment by allowing users to submit information anonymously.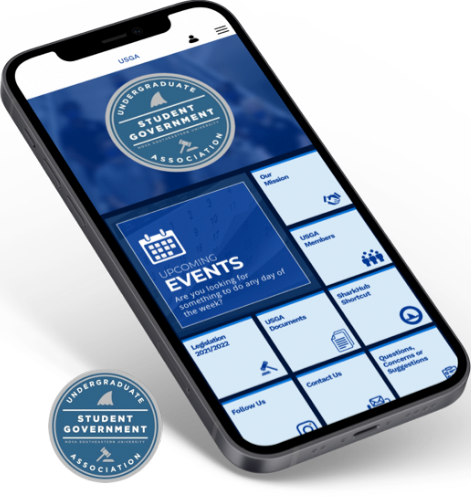 What's New
The Undergraduate Student Government Association (USGA) is now accessible within iShark Mobile. The new USGA module is designed to encourage students to engage with various on campus opportunities and voice their concerns. The following information can be accessed on this module:
Upcoming USGA Events
Senate Meeting Agendas
Senate Meeting Minutes
Your Representatives
How to Contact USGA
USGA is a government for and by the students, here to make your campus experience the best it can possibly be. Voice your concerns and help us Make Waves of Change!
Previous
Next
Return of the Sharks
We are preparing to welcome our students, faculty and staff members to campus in the safest way possible. Part of our strategy include the new addition to iShark Mobile, the Return of the Sharks Guidelines. Available for IOS and Android devices, this resource gathers all of the university's COVID-19 related resources.
This includes:
Self Assessment
COVID-19 Information & Resources
Quick Polls
COVID-19 Reporting Forms*
* NSU is cooperating with the Department of Health and the information in this form has been requested to assist them in their efforts to contain the spread of the virus.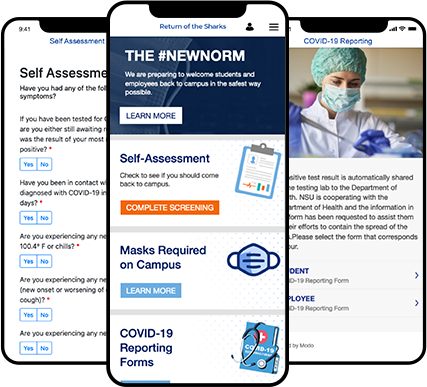 Popular iShark Mobile Features
iShark Mobile includes many features to keep you connected while on-the-go. Below is a list of popular resources and services to make the most of the app.