Congratulations to all our winners in this year's contest.
Each year, we receive approximately 2,000 entries from more than 100 middle and high schools across the state of Florida. All contest submissions are judged by a panel of volunteer educators and community members. Judges select the winners based on the thoughtfulness and uniqueness of the student's reflection; the clarity of their message as expressed through their project; and the level of skill and creativity evoked through their writing, art, or video production.
Prizes for the winners have included up to $1000 per student plus additional monies awarded to their teachers and schools, all-expense paid chaperoned trips to Washington, D.C.'s historical sites including the U.S. Holocaust Memorial Museum, private tours of the Craig and Barbara Weiner Holocaust Reflection Resource Center, meetings with Holocaust survivors, and an annual awards ceremony and reception on the NSU campus.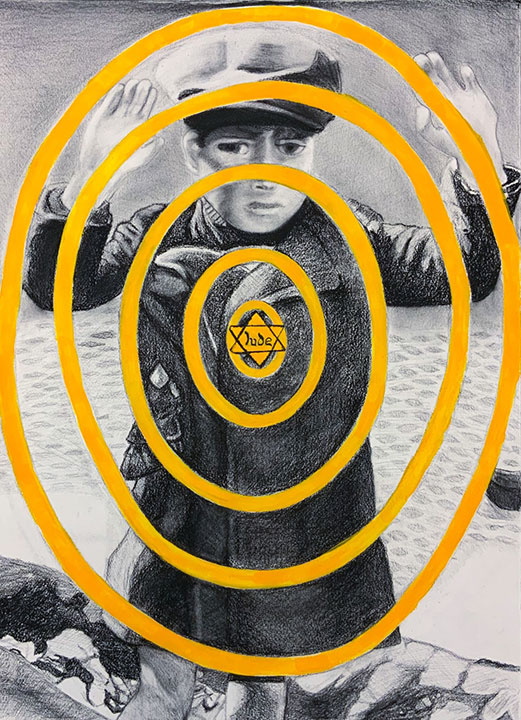 2nd Place  |  "We Became The Target"
Art
By Yair Sabag
David Posnack Jewish Day School
1st Place  |  "That Suitcase"
Essay/Poem
By Ava Rosenblum
NSU's University School
I am that suitcase, that shoe, that tiny photograph, that locket that travelled from Amsterdam to Auschwitz; from Lodz to Treblinka; from Budapest to Sobibor...
2nd Place  |  "The Everlasting Violinist"
Essay/Poem
By Abigail Scimeca
Spanish River Community High School
He plays his violin at night It frees him from the daily fright Yet those notes he plays on the dusty page Makes them happy, but fills him with rage...
1st Place  |  "The Tale Long Forgotten"
Essay/Poem
By Ariel Camhi
David Posnack Jewish Day School
At first, there were fifty Who survived the horrific event And told their story To anyone who could listen But as time went on And death brought along Only forty that could tell...
2nd Place  |  "When Will You Know?"
Essay/Poem
By Mary Zephir
Little Flower Catholic
You run back and forth carrying soup and bread to a shed, You do not know who receives it, just hands that grab it. Mother tells you if someone asks you a question about it...