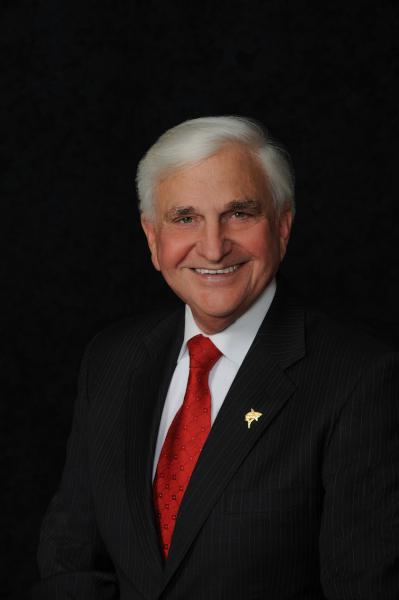 George L. Hanbury II
President/CEO, Nova Southeastern University
George L. Hanbury II, Ph.D., has served as the sixth President of Nova Southeastern University since 2010 and CEO since 2011. Prior to his appointment as President, Dr. Hanbury served for twelve years as NSU's Executive Vice President and Chief Operating Officer.

Upon taking office, Dr. Hanbury refocused the university's mission and vision, establishing eight core values to guide the university into 2020 and beyond: Integrity, Academic Excellence, Student Centered, Innovation, Opportunity, Scholarship/Research, Diversity and Community. Under Dr. Hanbury's leadership, NSU became one of only 59 universities in the nation to hold the Carnegie Foundation for the Advancement of Teaching's dual designation of both "Community Engaged" and "High Research Activity."
The successful completion of Vision 2020 transitioned into a new plan, Vision 2025. By 2025, NSU will be recognized as a preeminent, professional-dominant, doctoral-research university that provides competitive career advantages to its students and produces alumni who serve and lead with integrity. This new plan includes raising $1 billion in external research funding and philanthropic contributions since fiscal year 2010. Recent accomplishments toward fulfilling this vision include earning specialized accreditation in medicine and business programs, and partnering with HCA Florida to establish a state-of-the-art teaching hospital adjacent to NSU's Fort Lauderdale Campus.
Before entering higher education administration, Dr. Hanbury led a successful 30-year career as City Manager of the Cities of Fort Lauderdale, Florida; Portsmouth, Virginia; Virginia Beach, Virginia. Dr. Hanbury holds a B.S. from Virginia Tech, an M.S. in Public Administration from Old Dominion University and a Ph.D. in Public Administration from Florida Atlantic University.
Dr. Hanbury has been honored by many organizations, including being once again named as a 2020 South Florida Business Journal Ultimate CEO. Additional accolades include the 2019 Guy Harvey Conservation Award, 2017 Junior Achievement Business Hall of Fame Laureate, City of Ft. Lauderdale Walk of Fame inductee, 2015 Sun Sentinel Excalibur Award, 2014 South Florida Business Journal Ultimate CEO award, Fort Lauderdale's 2013 Downtowner of the Year, and many other community related awards throughout his career. He also commits much of his time to civic activities by serving on numerous boards, including the Greater Fort Lauderdale Alliance, the Comprehensive Economic Development Strategy Committee, Broward Workshop Executive Committee, the Economic Council of Palm Beach County, the Business Development Board of Palm Beach County, the Miami-Dade Beacon Council, the Florida Council of 100, and the Sunshine State Conference.