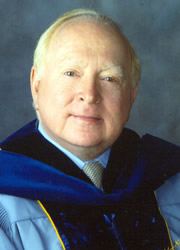 Frederick Lippman, R.Ph., Ed.D.
(954) 262-1507
(954) 262-1714 (fax)
flippman@nova.edu
Frederick Lippman, B.Sc., R.Ph., Ed.D. is Chancellor of the Health Professions Division and Special Projects of Nova Southeastern University and reports directly to the President. Dr. Lippman received his degree in Pharmaceutical Sciences at Columbia University College of Pharmacy and holds a doctorate in Higher Education Administration.
A community pharmacist for over 20 years, he has been widely recognized by academic and health care societies and has held important leadership positions in professional organizations. Among his numerous awards and activities, he is the 1986 recipient of the American Pharmaceutical Association's Hubert H. Humphrey Award for Excellence in Pharmacy, a past President of the Broward County Pharmacists Association, and a former Speaker of the House of Delegates of the Florida Pharmacy Association.
He joined the College of Pharmacy in 1987 as Vice President for Pharmaceutical Affairs. In 1989, he was promoted to Vice President for External Affairs for Southeastern University of the Health Sciences.
Dr. Lippman had previously served as Chairman of the Health Professions Division Research Committee. Under his direction, a research laboratory was developed, core high-technology multi-user research equipment was acquired, and protocols and guidelines for research activity were drafted. This development of a research infrastructure resulted in a tremendous increase in basic research funding, research publication, and submitted grants. Students now participate in undergraduate research programs and present their research findings at regional and national conferences.
Dr. Lippman had been a member from 1978-1998 of the Florida House of Representatives whose district encompassed much of southern Broward County. Among his many honors, he was recognized as a "Health Care Hero" in 2012 by the Greater Miami Chamber of Commerce, "Child Advocate of the Year" in 1996 by the Florida Pediatric Society, and as "Outstanding Advocate" in 1997 by the Institute of Holocaust Documentation at Florida International University for his leadership in adopting Holocaust educational curricula in the state of Florida.
Dr. Lippman is known as the "Father" of the State of Florida's Area Health Education Center (AHEC) Program, a federally-funded program that works to improve the supply and distribution of primary care health providers in medically underserved rural and urban areas by creating partnerships with academic health centers. NSU-HPD's AHEC Program began in 1985 as Florida's pioneer AHEC Program.