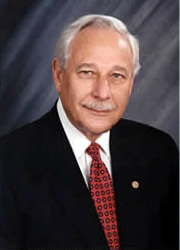 Ray Ferrero, Jr., J.D.
(954) 262-7585
(954) 262-2741 (fax)
ferrero@nova.edu
Mr. Ferrero serves as Chancellor of Nova Southeastern University, having previously served as Chancellor/CEO from January 1, 2010 - July 1, 2011. Prior thereto, he served as President and CEO since January 1, 1998, a member of the Board of Trustees from 1984 to 1988, as Chairman of the Board of Trustees from 1988 to 1995, and as Vice-Chairman from 1995 to 1997. He has also served as Chairman of the Finance Committee from 1995 to 1997.
Prior to joining the University as President, he was a practicing trial attorney from 1960 through 1997. He received a B.B.A. degree from St. John's University, and a J.D. degree from the University of Florida.
He was President of The Florida Bar from 1987-1988, and the American Bar Association Florida State Delegate from 1989-1998.
He is also a member of the Broward County Bar Association and Broward County Trial Lawyers Association. In 1995, he was appointed by Governor of the State of Florida to serve as Chairman of the Committee of Inquiry - 15th Judicial Circuit Nominating Commission, to investigate alleged improprieties in the judicial nominating process, and is currently serving as a member of the Board of Governors of the Tower Club, National Conference for Community and Justice, Broward Workshop and Broward Alliance, and on the Board of Directors of the United Way.
Mr. Ferrero has also lectured extensively through the United States to legal, business and civic groups.