Mobile Device Security (MDS) is a cloud-based service in the ever-growing mobile computing space. MDS helps enable our workforce to be productive while keeping our university data protected. NSU uses Microsoft's Intune for our MDS solution.
With Mobile Device Security, we can
Secure the mobile devices our workforce uses to access university data.

Manage the mobile apps our workforce uses to access that data (it does not have access to other apps, such as texts, Photos, Instagram etc.).

Protect our university information by helping to control the way our workforce accesses and shares it.

Ensure devices and apps are compliant with university security requirements.
All NSU owned faculty and staff mobile devices are required to be enrolled in Mobile Device Security.
Important Information
A compliant device is a device that is:
Encrypted

Password protected with a minimum password length of 4 characters

Five maximum minutes of inactivity before password is required

Not rooted or jailbroken
Apple
Apple iOS 11.0 and later

Apple iPadOS 13.0 and later

Mac OS X 10.12 and later
Google
Microsoft
In order to access Office 365 resources (e.g. email, calendar, onedrive) NSU requires the use of a Microsoft native application, third party apps are not allowed to access resources. For example you won't be able to check your email unless it is via the Outlook mobile app, third party apps such as Apple Mail, Android Email or Thunderbird are not supported.
For a list of all the Microsoft supported apps click here.
NSU Data Bubble
What NSU can and cannot do: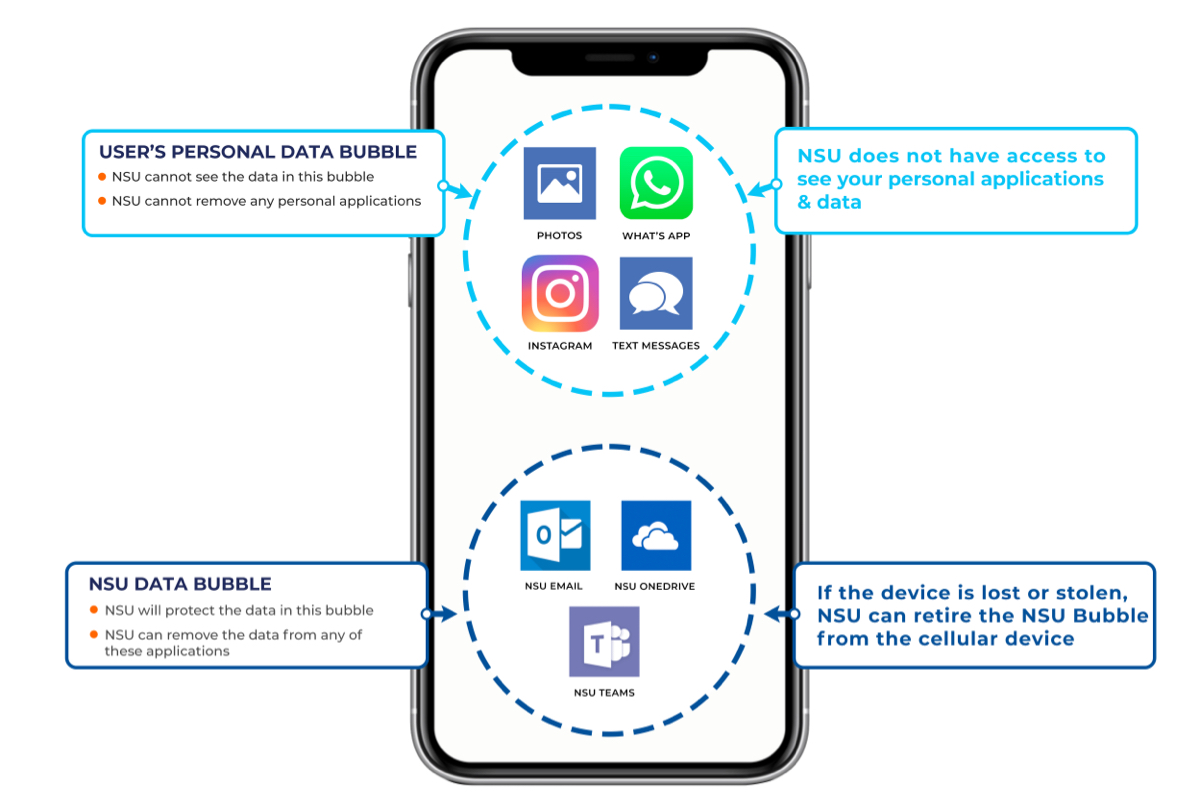 What type of device do you have?