Note: We do not support or endorse Norton Internet Security. However, frequent conflicts have encouraged us to create this documentation.
If you are having problems opening quizzes, discussion or email messages within Sharklearn, you probably have a popup blocker installed. One of the more common popup blockers now is including in Norton's Internet Security suite.
Disable Popup Blocker
The easiest way to disable popups is to use the Web assistant toolbar built in to Internet Explorer. You can choose to uncheck Block ads on this site and Block popups on this site.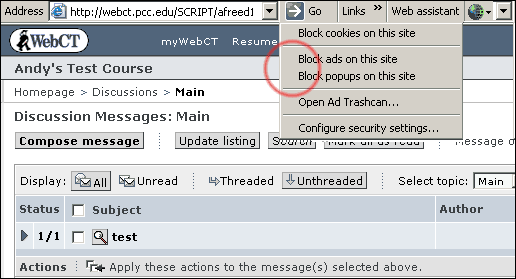 If you don't see the Web Assistant menu, you'll need to disable the firewall while using Sharklearn.
Disable Internet Security
Depending on your security settings, Norton may block crucial components of Sharklearn from running. If simply turning your Norton popup blocker has not fixed the problem, try disabling it completely by following the instructions below.
Right click on the icon (see screenshot below):

Choose Disable from the menu.
You may be prompted to disable it for a certain amount of time. We suggest you set it for the approximate length of time that you will be logged on to Sharklearn.