The Student Life Achievement Awards, affectionately known as the "STUEY's," is an annual celebration of NSU's best in Academic Excellence, Student Centered, Integrity, Innovation, Opportunity, Scholarship/Research, Diversity, and Community.
More than a decade ago, it was the vision of Brad Williams, Ed.D., Vice President of Student Affairs and Dean of the College of Undergraduate Studies, to create a celebration to recognize those who further a sense of campus community. Thus, the Student Life Achievement Awards were born.  This event is a celebration of the hundreds of activities designed to enrich the overall student experience of the NSU community.
24th Annual Student Life Achievement Awards: 
Tuesday, April 12, 2022 
Rose and Alfred Miniaci Performing Arts Center
STUEYs Program
View the complete list of nominees in our digital program below.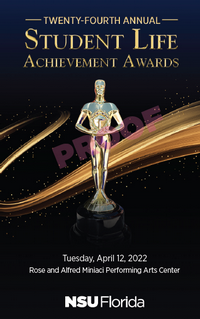 Live Stream: To view our 2022 STUEYs finalists, show, and award recipients, please click below.
The Nomination Process
Nominations
Every current NSU student, staff, and faculty member is eligible for nomination. The time period considered for nomination is from August through January of each academic year. Nomination forms must be submitted electronically through SharkHub and need to be submitted in English. In order to nominate an individual or group, the nominator must also be a current student, staff, or faculty member. Each nominee is selected by the Student Life Achievement Awards Nomination Committee composed of cross-functional professionals from NSU's colleges, centers, schools, and departments.
The Student of the Year nominees are selected by the academic deans of NSU's centers and colleges. 
Log in with your existing NSU Credentials
Voting
The Student Life Achievement Awards voting committee is composed of the NSU chancellor, NSU president, executive vice president of administration, and former STUEY award winners. Winners of the Student Life Achievement Awards are now permanent delegates to the Knights of the Academy and will be a part of the voting process for future winners.