Update My Personal Email Information
Students and alumni have the ability to change their address on the Web. This can be accomplished through SharkLink and will require an email username and password.
You can also notify the University of an address change by completing a Data Change Form, or by mailing or faxing a signed letter request to NSU Data Entry at (954) 262-2915. Indicate your old email and your new one.
Login to Sharklink
Select View My Profile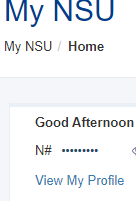 Under the Email option
Select Icon to Edit  or Add New
OR
Select Icon to Delete