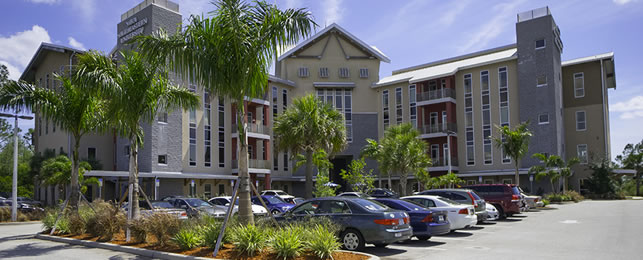 Regional Campuses
You don't have to be on campus to have a traditional college experience. If you live in Jacksonville, Miami, Orlando, Palm Beach, Tampa, or Fort Myers, Florida or in San Juan, Puerto Rico, attending NSU is easy because of our regional campuses. These campuses are serving students at a distance from the main campus with microcomputer labs and videoconferencing equipment. In addition, the campuses are staffed with full-time employees to help with registration, enrollment, and financial aid.
The Regional Campuses create an on-campus atmosphere for students by offering chances to develop friendships, form study groups, and use videoconferencing equipment to connect with the NSU main campus. The best part is the campuses are convenient and accessible for many students.
The Regional Campuses have established high-quality and efficient services that enable students to finish their degrees successfully and gain an experience that contributes to their personal and professional development.
To achieve student satisfaction, the following services are offered at all of our regional campuses:
Services Offered
Convenient evening and weekend classes
Full degree online programs
Outstanding faculty members who are practicing professionals in their field
Computer lab access to all students with full-time IT and media assistance on-site
Full-time staff to assist students with financial aid, registration, applications, or general program questions
Multiple compressed video suites for videoconferencing
Audiovisual tools (TV/VCR, overhead projector, LCD overlay, etc.)
Internet connectivity
Notification of important events through the use of mail, email, videos, and Web sites
Promotion and support of regional alumni organizations
Convenient parking
Office hours 8:30 a.m. to 7:00 p.m. during the week with additional support staff scheduled in the evenings and on weekends