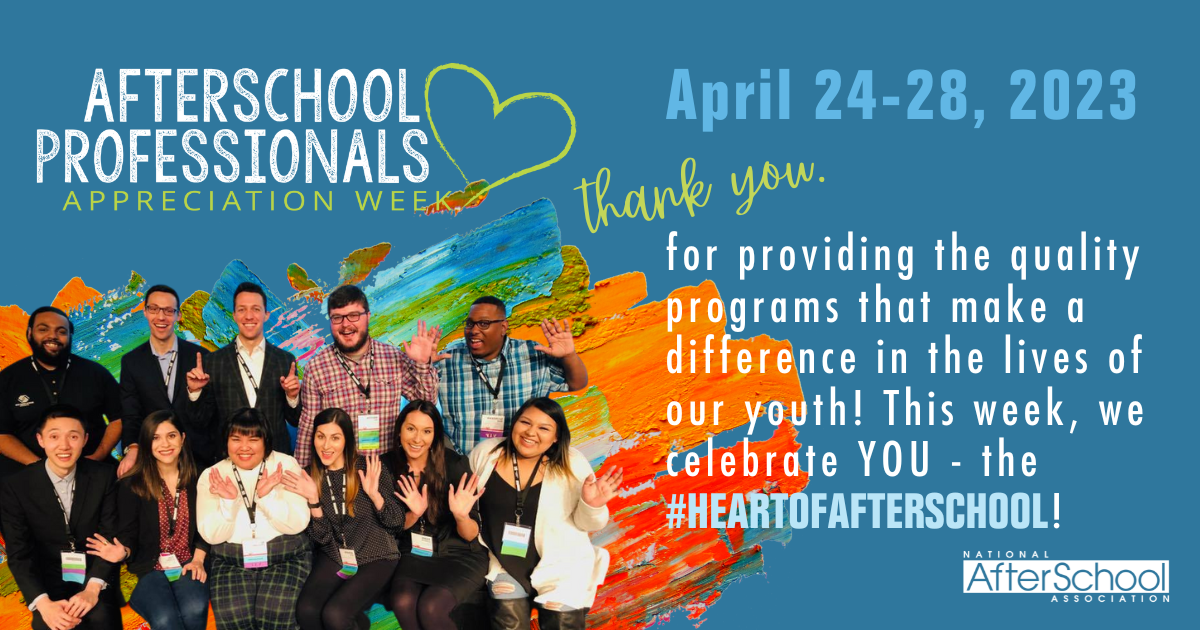 For Afterschool Professionals Appreciation Week 2023, Project RISE is excited to celebrate the hard-working staff in K-12 Youth Development programs throughout Miami-Dade County for their commitment to Miami-Dade's children. These after-school professionals -and the programs they are essential to- are making a difference by creating safe and supportive places for youth to grow and learn.  
Project RISE coaches have had the honor of working with many Youth Development programs and their wonderful staff this past year. This week, while we are shining a light on some of the many fabulous programs below that are doing extremely important work for their communities; we celebrate and express our gratitude for all of them.  
Amigos Together for Kids where community and family come together to create positive and enriching experiences for children to thrive. 
Arts for Learning works to inspire young people and expand their learning through the arts. 
Big Ideas Educational Services focuses on building character, integrity and academic success in the youth they serve through innovative enrichment activities and ongoing academic support.  
Coalition of Florida Farmworker Organization (COFFO) Positive Youth Development program is reimagining how to amplify youth voice while strengthening the potential of the educational, social, and personal capabilities of their youth participants.   
Hope for Miami (Family & Children Faith Coalition) nurtures children and youth through effective programs to help them build positive, healthy futures.    
Hosanna Community Foundation ignites desire within the communities served to make the changes to improve the quality of life. To strengthen individuals, families and communities by seeking continuous opportunities to provide program activities that promote positive change within individuals, families and communities.   
Leadership Learning Center uses a team-teaching strategy to instill self-confidence and a sense of personal accomplishment in their youth by providing opportunities for empowerment and community service while supporting literacy, fitness, and social-emotional wellness.  
Mexican American Council's mission is to improve the quality of life for farmworker families in the South Florida community through the advancement of education, healthcare, family engagement, multi-cultural understanding, access to the arts and technology, and increased civic engagement. 
Miami Children's Museum promotes educational development and wellness through team building, creativity, and coordination in activities from fitness to cooking.  
Overtown Youth Center provides numerous resources and opportunities to youth and families that will allow for educational success and social emotional wellness so that the whole community can prosper. 
Recapturing the Vision International's Vision Smart Kids (VSK) prioritizes hands-on learning and unity within the community at each site to improve children's literacy, fitness, study skills and social development.  
Touching Miami with Love (TMWL), a Faith-based program, has increased its focus on stress management by incorporating mindfulness spaces throughout each site and teaching staff and children mind and body calming strategies, while continuing its mission to guide children spiritually, intellectually, and emotionally.   
Town of Cutler Bay is an organization where children can safely explore, discover and grow through a range of activities including swimming, painting, improving their literacy skills, and enjoying outdoor fitness activities in the park.   
Urgent Inc.'s SPARKS Afterschool and Summer Camp programs empower young creative minds to transform their lives and communities. 
Hope for Miami Spotlights Project RISE 
Article edited for clarity. Originally published on HFM Stories.
Project RISE began working with Hope for Miami during the 2021-2022 school year, offering coaching support in the areas of literacy, social emotional learning (SEL), fitness, and behavior management.
During Stacy Silverman's program visits to the Pneuma Academy, Wayside, and Pinelands sites, he witnessed the positive impact of staff structuring opportunities for youth to further their learning.
One highlight was when Stacy observed program youth get excited about competing in a Jeopardy-like group game about emotions. What stood out during this SEL activity was how program staff asked each child to explain and expand on their opinions and past experiences. Stacy noted, "When a young person reflects on and verbalizes their feelings, they take an important step forward in exploring empathy and better understanding their own complex emotions."
Stacy also hosted two virtual trainings -Active Learning and Planning and Reflection- for the Hope for Miami staff, and was appreciative of having so many outgoing and active participants.
These training sessions are a great way for Project RISE to learn about and share the diverse experiences and expertise of program staff while providing new ways for those program staff to offer learning opportunities to their program's youth.
Project RISE looks forward to continuing to support Hope for Miami's continuous quality improvement process.