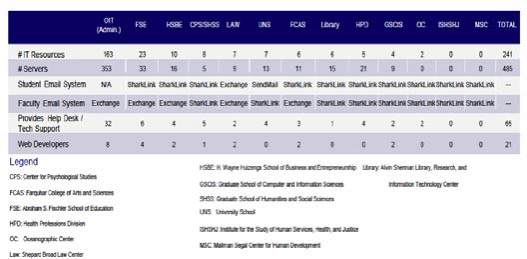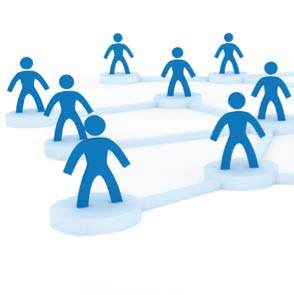 The IT Steering Committee was established by Frank DePiano., executive
vice president for academic affairs and provost, appointing members from
key areas of academic and operations. This committee is empowered to
make determinations as to which projects are undertaken by IT and to
assign priorities to the projects.
The Blackwell report listed several initiatives that have been completed or are actively in development:
A new externally hosted email solution was implemented for students and alumni to increase function-
ality and system availability and provide scalability. This new email system includes a larger mailbox,
associated storage in the cloud, and access online to the Microsoft Office suite.
Progress is being made with implementing a university-wide active directory to facilitate single sign-on
capability to all systems throughout NSU, increase productivity, and improve security. This technology
will enable NSU to subsequently deploy other systems that will further enhance its environment for
students and faculty and staff members.
The IT department has selected an institution wide incident management tool that will be deployed fol-
lowing the active directory implementation. Altiris Service Desk will promote consistent practices and
standards across all IT functions and provide information for effective decision making within process
improvement, resource allocation, and training while increasing service-delivery efficiency.
An enterprise email service will be implemented for faculty and staff members. Likely based on Micro-
soft Exchange 2010, this will reduce operational costs, increase system availability, improve security
and provide an integrated campuswide directory for all faculty and staff.
The Blackwell report also recommended the creation of a unified matrix IT organization encompassing all ITser-
vices and functions university-wide.
It is in this spirit that Nova Southeastern University has undertaken the process of unifying information technology
teams and services from across its 18 schools, centers and colleges into a single and cohesive organization. Dur-
ing this unification process, great care is being taken to sustain and enhance existing service levels to academic
units so as not to disrupt their respective day-to-day operations. The unification plan commenced in the first quar-
ter of 2011, and most service units are expected to be fully unified by the end of 2012. The overall unification plan
will ensure that NSU continues to leverage economies of scale by centralizing commodity services like email, while
at the same time empowering IT to contribute continuous, value-added innovations in the support of Vision 2020.
The Blackwell report cited duplication of IT services and an overlapping
approach to service delivery across NSU.
This project will transform the IT organizational structure
across the entire university. The effort will impact the
reporting and oversight structure throughout the institution,
creating an IT organization focused on the needs of the
customer, with responsibility for achievement of univer-
sity goals by IT staff members. It will provide measurable
standards of service and establish a framework for con-
In addition to cost savings, overall service efficiency will
be realized from consolidating redundant systems across
the institution. Subsequently, resources will be reallocated
toward more value-driven initiatives that directly impact