Letter from the Editor


On December 8, 2001, the Alvin Sherman Library officially opened its doors to the NSU community and the public. Today, it is a cultural and learning center serving more than 480,000 visitors each year. On average, our reference librarians answer 32,100 questions a year and we circulate almost 300,000 items including everything from video games to best sellers. Large and small groups use our meeting rooms. Every day the spacious atrium welcomes young and old. Happy 10th Birthday to this vibrant community resource!


E-NEWS : December 2011


Children
Saturday, December 10 11-3 pm All ages
Happy 10th Birthday, Alvin Sherman Library!
Come to our party and celebrate with birthday cake, a special performance by our very own Shermanettes, fun activities, and a show by nationally known Fred Garbo Inflatable Theater Company!
11am-noon: Silly Stories with the Shermanettes
12-1 pm: Arts and Crafts
1-1:45 pm: Cake cutting celebration
2-3 pm: Fred Garbo Inflatable Theater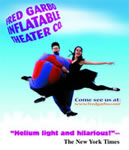 Company at the Rose and Alfred Miniaci Performing Arts Center **Show is free, but tickets are required** Free tickets for Alvin Sherman Library card holders will be distributed beginning Saturday, Nov. 26th, through 6pm Thursday, Dec. 8th , while supplies last. Call for information: 954.262.5477.


Friday, December 16 3:30-5 pm Ages 6 & up

Winter Craft Workshop
Make sparkly greeting cards, gift tags, and more!

Adults
Sunday, December 4 - Genealogical Society of Broward County: Preserving Your Family Papers
Nora Quinlan, Director of Reference at the Alvin Sherman Library, presents how to store and protect photographs, historical documents and family keepsakes for future generations.
The Genealogical Society of Broward County's monthly meeting is held at the Alvin Sherman Library. The program begins at 2:30 pm after the GSBC open lab (12, noon - 2 p.m.) and the Genealogical Society of Broward County business meeting (which begins at 2 pm).Sponsored by the Genealogical Society of Broward County.

Sunday, December 11 2 - 4 pm, 2nd floor, Gallery.
Culture Vultures Presents: Russian Dreams
Russian pianist Damira Feldman returns to Sunday Happenings to delight us with her vibrant, elegant and vivacious style. Her program features works by Cui, Arensky, Rubinstein, Tchaikovsky, Scriabin and Rachmaninov.
Saturday, December 17 1 to 3 pm, 1st floor, Rm. 1017.
Pop-up Card Workshop

Join Tennille Shuster, award winning graphic designer, illustrator, and book artist as she guides you in basic paper engineering skills, culminating in the creation of folded pop-up greeting cards. All materials provided.
"Click Here to Register for this Event" or call us at 954-262-5477.