FROM THE EDITOR
Please give us a minute and take our survey. Your opinions will help us better meet your needs.

HELP US REACH
OUR GOAL
September begins Library Card Drive Month. As of June 2010, approximately 64,494 library cards have been issued by the Alvin Sherman Library to individuals living, working or going to school in Broward County. Our goal is to issue 1,000 new library cards by the end of September. Can you help us do that? Please let your friends and family know about our library and how they can apply online for their FREE card. Your children can also get their own library card. Apply online at: www.nova.edu/library/card


DONATE YOUR BOOKS
Consider donating your pre-owned textbooks, fiction and nonfiction hardcover and paperbacks, children's books, CDs and DVDs and video cassettes to the library. Call us at 954-262-4542 or email us at tfrantz@nova.edu.
E-NEWS : AUGUST 2010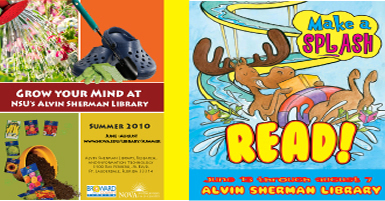 CHILDREN
More than 700 people attended summer reading kick off event. Thanks for making it a great success. We hope you continue enjoying our weekly summer reading programs and specials!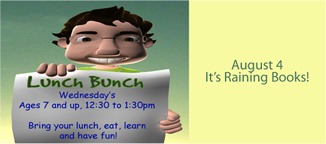 Click here for a list of recommended books for the Lunch Bunch,
"It's Raining Books!" program!
Thursday- Silly Stories with The Shermanettes
August 5 10:30am -11:30am All ages with caregiver


Super Specials: Saturday in August
Mr. Brian and the Boppets
August 7 2 -3pm All ages with caregiver


TWEENS

August 3- Totally Tweens: Weather or Not?


TEENS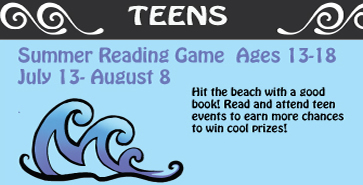 August 3 Tuesday Teen Movie Nights (ages 13-18) 6-8pm
Chow down on free snacks while you watch a movie with friends!

ADULTS
August 4, 1-3pm, Lab B Adult Computer Camp: Twitter
Learn how to use Twitter, the popular micro blogging tool used by millions around the globe. Registration begins: July 21.
August 18, 1-3pm, Lab B Adult Computer Camp: YouTube
Create an account and learn how to search and upload to YouTube. Registration begins: August 4th.

Resume Writing Resources 101
August 11 and August 13 1pm-or-2pm, 2nd floor-Lab B
Schedule a personal one to one overview with our librarian and discover the many tools available to help you create a successful resume. You'll also learn about the library's many electronic resources.
Since these are one to one sessions, you must schudule an appointment and bring the following: NSU Sharklink account or Alvin Sherman Library card, flash drive or disk to download information and access to a personal email account. Make your appointment with Sarah Cisse. Email: sc1169@nova.edu or (954)262-4649