FROM THE EDITOR
There is nothing like summer. Yes, it is hot and humid, but there is no pressure from school, no need to get after the kids to do their homework or prepare for that test. Instead, we get to enjoy summer's slower pace, the ability to read a great book or tackle a new project. We invite you and your family and friends to take advantage of this precious time by heading over to our "cool" library. Our librarians have planned a wonderful array of programming for children, tweens, teens and adults. Learn to fish or attract butterflies, enjoy the antics of Jiggleman or Geddy the Gecko! You'll be happy you ventured over here and don't be surprised if you start spending more time at the library.
WHAT TO READ NEXT
Did you know that the Alvin Sherman Library offers you access at no charge to many consumer publications? Check out Value Line or a host of fashion magazines like Harper's Bazaar or Vogue and even Vanity Fair. You'll need your Alvin Sherman Library or your Shark card to enter the site. Problems? Give one of our librarians a call and they can walk you through the process. 954-262-5477.

Check out In the Spotlight for lots of fun and interesting information.
BECOME A FRIEND
Circle of Friends
Help support the Library and meet new and interesting people at the same time. Interested? Click on the button



or, donate online at
www.nova.edu/giving

E-NEWS : JULY 2010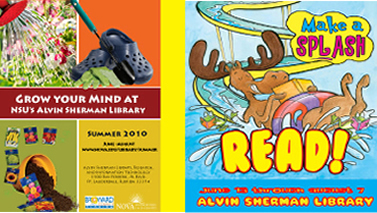 CHILDREN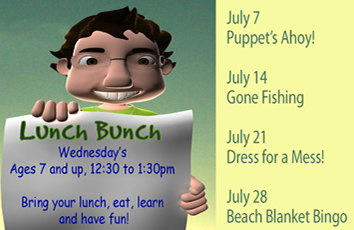 Thursdays- Silly Stories with the Shermanettes
10:30-11:30am All ages with caregiver
Be creative with the Kid's Crown Award Winning Shermanettes! Every week we will explore the world of art, music, literature and puppetry with silly stories and songs.
July 1 Silly Stories with The Shermanettes: Ocean Commotion!
July 8 Silly Stories with The Shermanettes: Splish, Splash!
July 15 Silly Stories with The Shermanettes: One Fish, Two Fish!
July 22 Silly Stories with The Shermanettes: Surfing Safari!
July 29 Silly Stories with The Shermanettes: It 's Raining Rhymes,
It's Pouring Poems!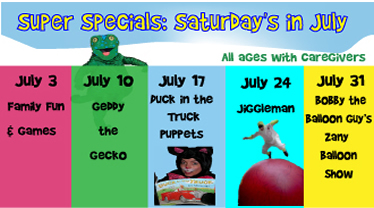 TWEENS


July 6: Bubbles! Explore the science behind bubbles and then make your own. How big can our bubbles get? Can you blow a bubble into another bubble? We'll try these and more! Weather permitting, we
may go outside for some of our bubble adventures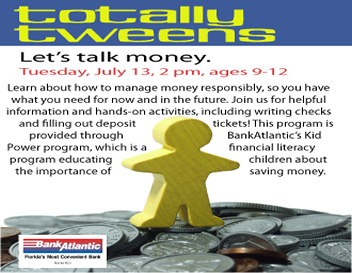 July 20- Totally Tweens: Sailing the High Seas, part 1
Do you know the difference between a ship and a boat? What do you call a boat with two hulls? How did sailors find their way before they had computer equipment to help them? Learn fun facts, play games, and make nautical flags!
July 27- Totally Tweens: Sailing the High Seas, part 2 Join us as we explore the routes of some famous explorers, see ships throughout history, and more! We'll meet in the computer lab for this week's Internet-based activities.


TEENS
July 6, 13, 20, 27- Tuesday Teen Movie Nights- Every Tuesday
6-8pm, for ages 13-18
Chow down on free snacks while you watch a movie with friends!

July 10- Teen Orientation, 2-4pm, for ages 14-18
Last chance to become a teen volunteer this summer!! Visit The Teenroom for applications and instructions. Limited spaces are available.
July 13- Fantasy Fanatics Teen Book Club
5:30-6pm, for ages 15-18
This month's pick is The Hunger Games by Suzanne Collins. If you are a fan of the show Survivor, you must read this book!

July 15- Trash to Treasure- Transformation Art Contest
3-4pm, for ages 13-18
Transform old items into cool art creations! Go green and enter your creation for a chance to win! (contest deadline August 5).
July 16 Romance Readers Teen Book Club
5:30 to 6 pm ages 15-18
This month's pick is Thirteen Little Blue Envelopes by Maureen Johnson.

July 19-Teen Manga Club, 5:30-6pm, for ages 15-18
Teen Manga Club- Come discuss your favorite shōnen and shōjo with fellow Otaku (fans of manga)!

ADULTS

July 11, 11am-12 noon Tour the NSU Medicinal Healing Garden (reserve your spot today!)
July 18, 4- 6pm Freshwater Fishing with Captain Brian (reserve your spot today!)
July 25, 3-4pm Create Your Very Own Butterfly Garden(reserve your spot today!)


COMPUTER CAMP
July 7, 1-3 pm, Lab B Adult Computer Camp: Photo Editing & Flick'r
Learn some simple photo editing tips and upload your finished pieces to the Flick'r photo sharing service. Registration for this program begins: June 23rd.

July 21, 1-3 pm, Lab B Adult Computer Camp: Facebook
Explore one of the top social networking tools on the planet. reconnect with old friends and discover new ones. Registration for this program begins: July 7th.
Resume Writing Resources 101
July 14 and July 16 1:00pm-or-2:00pm, 2nd floor-Lab B
Schedule a personal one to one overview with our librarian to discover the many tools available to help you create a successful resume. You'll also learn about the many electronic library resources.

Since these are one to one sessions, you must schedule an appointment and bring the following: NSU SharkLink Account or NSU public card, flash drive or a disk to download information and access to a personal email account. Make your appointment with Sarah Cisse at: Email: sc1169@nova.edu, Phone: 954-262-4649