World War I and America: Told by the Americans Who Lived It.

Led by Timothy Dixon, J.D., Associate Professor, NSU College of Arts, Humanities and Social Sciences, Department of History and Political Science.

Join others in a reading and discussion group developed by the Library of America as we explore excerpts of essays, speeches, books, poems and letters about World War I .

Copies of the readers are available at: http://wwiamerica.org/wwi-writers-writings.php. Select the individual section or download the entire series and read them by the discussion date.

For more information contact Nora Quinlan at nora@nova.edu or 954-262-4637.

Sunday, May 7, 12:00 PM - 4:00 PM

Second Floor, Computer Lab A . Lecture in Room 2053

The May program will be a webcast on Court Records.

Open Lab: 12:00 PM - 1:15 PM

General meeting: 1:30 PM

Presentation: 2:00 PM

African American Special Interest Group Meeting: 3:30 PM

Visit www.gsbcfl.org for more information about GSBC. Parking $1.00/hour on the first level of the parking garage. Meetings are free and open to the public.

For more genealogy resources found at the library, click here.

This event is part of the Computer Camp series.

-

Identify scholarships and grants using Foundation Center resources at these free workshops with an open lab. Learn about resources available to find scholarships, tools to start your search, how to tailor your search based on your field of study, and tips for an efficient search.

Please register online or call 954-262-4613. This event is part of the Scholarship Resources series.

The Essence of Lean and the Transformation of City Furniture

Tuesday,

Second Floor, Cotilla Gallery

Author and NSU Professor, David Hinds and City Furniture Vice President Andrew Koenig discuss Hinds' new book The Essence of Lean: A Superior System of Management.

This groundbreaking book uncovers the true essence of "Lean" and explains how and why this "best-kept secret of management" can transform service industries, small and medium-sized businesses, governments and non-profit organizations.


Written especially for non-manufacturing leaders, the book explains the essential elements of Lean.

Please register online or call 954-262-4613.

Can't attend live? Register Here to watch online!

Circle of Friends Annual Meeting
Wednesday, May 17, 5:30 PM - 7:30 PM
Fourth Floor, Room 4009

The Circle of Friends for the NSU Alvin Sherman Library invites you to attend its Annual Meeting for a celebration of this past year's achievements, and the installation of the incoming board and officers. You'll also hear about Banana Wave, an up and coming company, whose determination, perseverance, entrepreneurial spirit and the support of the NSU Alvin Sherman Library turned their dream into an amazing success.

This event is open to all Circle of Friends members and their friends, and refreshments will be served.
To RSVP, please email libdev@nova.edu or call 954-262-4627.

Friday, May 19, 11:00 AM - 2:00 PM

First Floor, Program Room 1017

Tap into your creative juices by trying your hand at a make and take craft. Stop by the library and learn about our many resources. Drop in anytime during the program for make-and-take crafts.

Circle of Friends Annual Gala and Fundraiser "A Night of Dueling Pianos"

Alvin Sherman Library, Atrium

Join the Circle of Friends for a night of fun to help raise money for the NSU Alvin Sherman Library. Fun Pianos! by 176 KEYS will provide entertainment for the event in the Sherman Library's Geraldine and Morton Terry Atrium. This will be a rocking and rolling night of delicious dining and cocktails accompanied by music and fun not to be missed!

This event is part of the Circle of Friends series.

For more information, please contact grodriguez@nova.edu or 954-262-4627.

Don Taft University Center

"The Evolution of Indian Dance", is an Interactive Indian dance lecture/demonstration that presents the history, evolution and current state of Indian dance in a very entertaining manner.

The presentation is aimed to educate the audience on ancient and modern Indian dances, customs and cultures. Please register at 954-262-5477. This event is being presented by Rhythms School of Dance and led by Artistic Director Ranjana Warier.
Flipster

lets you instantly download the latest magazines for free on your phone, tablet, or in the browser. Download and read offline, too!

Comics Plus Allows you to get free and instant access to thousands of comics and graphic novels in any web browser - whether on your phone or laptop.
Cloud Library allows for instant access to eAudio andeBooks. Simply download the app and get started!

OneClickdigital


Download best-selling audiobooks and ebooks to your phone, tablet, or computer using just your Shark or Library Card. Theirs is the largest digital audiobook collection, including exclusive content, and more than eighty foreign language courses.
Afterschool Adventures!
Tuesdays, 4:00 PM - 5:00 PM
First Floor, Program Room 1017
Join us on Tuesdays for fun activities designed for children in grades 1 – 5

Tuesday, May 2: Story Explorers
Special Skype visit with Suzanne Selfors, author of the Imaginary Veterinary series! You will be able to ask questions to the author. Please read the book The Sasquatch Escape before attending.
Tuesday, May 9: Builders Club
Build and create with the library's LEGO bricks.
Raise a Reader@ Sharkey's Storytime!
Wednesdays, 10:30 AM - 11 :15 AM
First Floor, Program Room 1017

Enjoy books, songs and activities that enhance early literacy skills.

Celebrate Haitian Heritage month and Children's Book Week with interactive tales, songs and rhythms from Haiti. This free program is for children of all ages with caregiver.

This is our last storytime for the spring. Families who have learned all five early literacy skills will graduate from storytime. Everyone is welcome for this special event!
Raise a Reader@ Little Minnows Storytime!
10:30 AM - 11 :15 AM
First Floor, Program Room 1017
Ages 18 - 36 months with caregiver
Enjoy books, songs and activities that enhance early literacy skills.
10:30-11 AM: Stories & Songs
11-11:15 AM: Raise a Reader & Free Play
Three Billy Goats Gruff Puppetry Workshop, presented by Bits N' Piece Puppet Theatre
First Floor, Program Room 1017
Master puppet builder Holli Rubin leads this interactive, hands-on puppetry workshop.
Children will learn about the art and history of puppetry, practice techniques for performing with rod puppets, create paper plate stick puppets and present a puppet show to the audience.
This event is part of the Live at the Sherman Library series.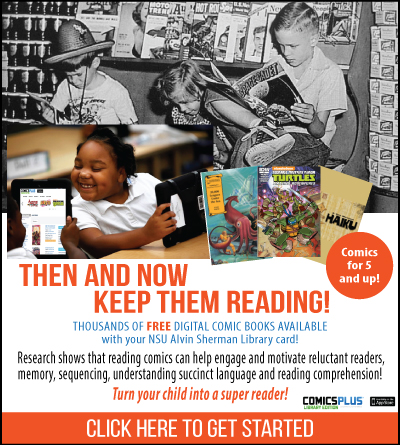 Aren't sure what to read? Check out these recommended books selected by our Nova Southeastern University Librarians.
Got a question... Simply ask.