A Letter from the Editor
On December 10th, the Alvin Sherman Library kicks-off its yearlong 10th anniversary celebration. Over the past 10 years, we have issued more than 76,000 library cards and entertained and assisted more than 500,000 consumers each year. As we enjoy the contributions of Ben Franklin this month through our programs and events, we'd like to recognize one of his greatest achievements, the conception of a subscription library and subsequent founding of the Library Company of Philadelphia. He also hired the first American Librarian, Louis Timothee! While the NSU Alvin Sherman Library is the academic library of Nova Southeastern University, our "founders" had the vision to work together to enhance literacy by sharing resources with the community. And, as a result, the unique joint-use agreement between the Broward County Board of County Commissioners and Nova Southeastern University was born!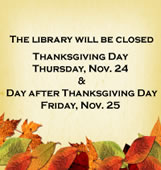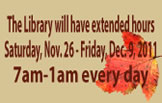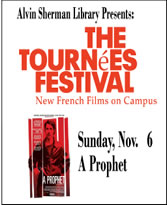 Learn more about Ben Franklin and colonial North America by starting at our library guide on history. You'll find a snapshot of some of our best resources associated with this topic.
nova.campusguides.com/history




E-NEWS : NOVEMBER 2011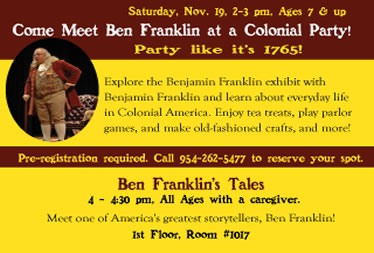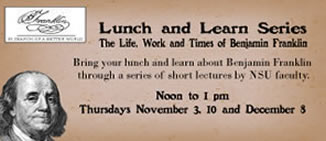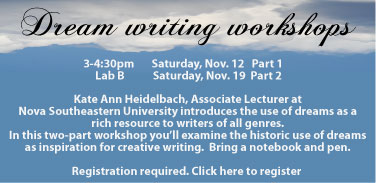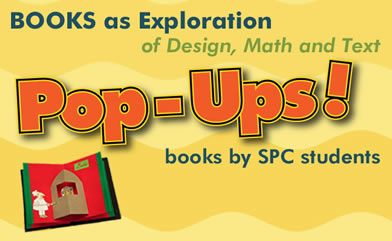 CHILDREN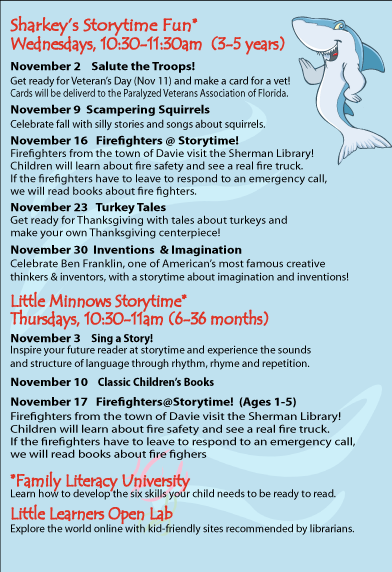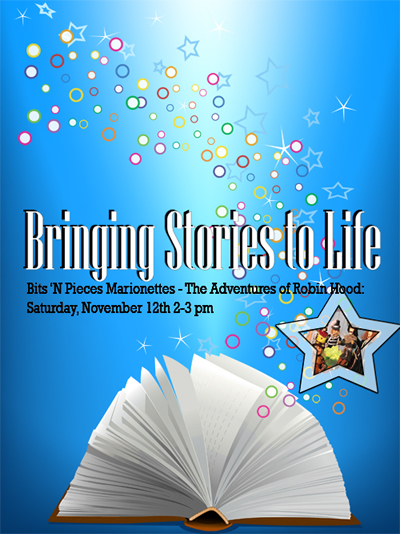 12- Charles P. Ferro Foundation Presents: The Adventures of Robin Hood Marionette Theater, 2-3 pm, all ages with caregiver


Action! Adventure! Marionettes! A great storywith toe-tapping music based on Howard Pyle's The Merry Adventures of Robin Hood, a classic tale created especially for children and performed by master puppeteer Jerry Bickel of the Bits 'N Pieces Marionettes. This program is made possible by a generous gift from the Charles P. Ferro Foundation. 1st Floor, Room 1017.

19- Colonial Ben Franklin Party, 2- 3pm, Ages 7 & up.
Party like it's 1765! Explore the Benjamin Franklin exhibit and learn about everyday life in Colonial America. Enjoy tea treats, play parlor games, and make old-fashioned crafts. Make an old-fashioned quill feather pen and a newspaper pressman's hat! Meet colonial artists and learn about quilting, hornbooks, and calligraphy. 1st Floor, Room 1017. Pre-registration required. Call 954-262-5477 to reserve your spot.

19- Ben Franklin's Tales, 4-4:30 pm, All Ages with Caregiver
Meet one of America's greatest storytellers, Ben Franklin.
1st Floor, Room 1017.


ADULTS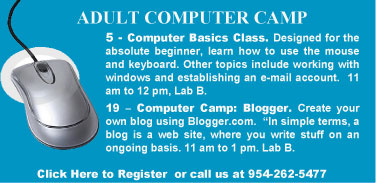 5 – Chef Bil Cooks for Thanksgiving. 1 to 2 pm.

Stumped on ideas for Thanksgiving dinner? Don't miss this cooking demonstration with Chef Bil Mitchell as he injects new life into a holiday meal. Chef Mitchell is the first promoted Apron's Resident Chef of Publix and teaches regularly at the Plantation Publix Apron's Cooking School. He has worked and managed various regional and seafood restaurants in New York, Ohio, Virginia and Florida over the last 26 years. 1st Floor, Room 1017. Pre-registration required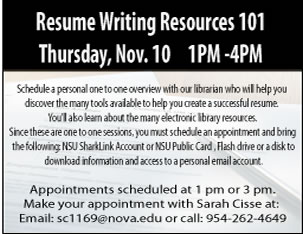 12 – Dream Writing Workshop, Part I. Lab B. 3-4:30 pm.
19 - Dream Writing Workshop, Part 2. Lab B. 3-4:30 pm.
Dreams offer a rich resource to writers of all genres. The use of dreams within writing can open the door to new ways of thinking about writing. This method has been a source of inspiration as well as a long practiced literary technique. In this two-part workshop we will examine the historic use of dreams as inspiration for creative writing. We will also review several techniques that any writer may use to become skilled in the use of introducing dreams into creative material.
Kate Ann Heidelbach is an Associate Lecturer at Nova Southeastern University. She has received an MFA in poetry from the University of Miami. Her undergraduate degree in poetry was received from Columbia College Chicago. She has recently enjoyed presenting her work at select venues in Chicago, New York, Miami, and Puerto Rico. Her dreams are an active source of inspiration for her work as a poet. Materials needed: Please bring a notebook and pen.
Pre-registration required

13 – Culture Vultures Presents: Road to Samarra. 2-4pm
German artist Wulf Treu will take the audience on a visual tour of his recent show. Treu mixes bright colors with dark subjects and an ironic sense of humor to surprise and engage the viewer with his unique style and perspective. 2nd floor, Gallery.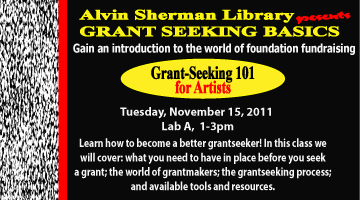 Genealogy
6- Genealogical Society of Broward County (GSBC):
Noon- 2 pm: GSBC Open Lab
2 pm - 2:30 pm: GSBC monthly meeting
2:30pm- 4pm: Photoshop Tips and Tricks for Genealogists.
Ever wonder how photography studios restore your old photographs? See an Adobe Photoshop demonstration of how it is done.
Sara Rytteke, Associate Professor of Photography at Barry University's Department of Fine Art will be the guest presenter for this program.

26- African Diaspora Genealogy Group, 1 pm-2:30 pm
1st Floor, Room 1054
Join others interested in learning more about African Diaspora genealogy. This support group meets informally on the fourth Saturday of every month at the Alvin Sherman Library. For more information about the group contact adgenealogy@gmail.com.