FROM THE EDITOR
Welcome to the dog days of summer! While the kids are still off from school, it's a good time to take this opportunity to start preparing for a new school year. The Alvin Sherman Library has a multitude of online databases for Art, History, Biology, etc. that are listed below in the Your Library Available Online section. We also have books and other resources to help boost your skills! And, if you ever need to talk to a librarian, consider using our ASK A LIBRARIAN service.
Please take a few minutes to fill out a short survey. Your input helps us better provide you with services and products to meet your needs.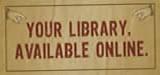 The summer is ending and the school year will soon begin! Get your children or teens back in the swing of things with our library guides for general school subjects!
Art
Biology
Geography
History
Literature
Mathematics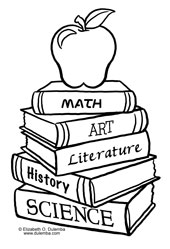 Also don't forget that our librarians are here to assist you with any of your research needs! If you don't have time to make it to the library, use our Ask A Librarian system and contact our librarians by text, phone, chat, or email!

E-NEWS : AUGUST 2011

CHILDREN'S

Thursdays - Silly Stories with The Shermanettes
10:30-11:15am All ages with caregiver
August 4: The Book Worm Show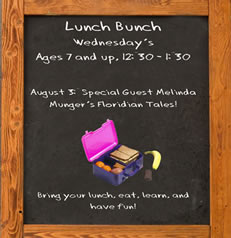 Saturdays 2-3pm All ages with caregiver
August 6: Fantasy Theatre Factory's Comedy Review
Our last show of the summer. Don't miss out on this special show!


TWEENS


August 2: Margaret Pashkin's Interactive Storytelling Workshop


TEENS


Get Your Game On! Hang out in the Teen Room and play PS3 & Xbox360. Call for times!


ADULTS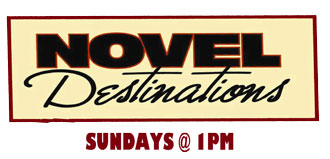 August 7 12-2pm 2nd Floor - Lab A
Genealogical Society of Broward County: Open Lab
The Genealogical Society of Broward County's monthly meeting is held at the Alvin Sherman Library on the first Sunday of every month unless otherwise noted.
During the summer the GSBC will host an open lab (12 noon - 2 p.m.) for those who want to work on their genealogy projects or who need assistance in doing genealogical research. Sponsored by the Genealogical Society of Broward County.

August 10 1-3pm 1st Floor - Room 1017
Explore Tools Online for Sharing Your Summer Memories
Discover how to share your memories from the summer with family and friends.