FROM THE EDITOR
In recognition of Independence Day, we encourage you to dive into American History this summer. We've made it easy by putting together this library guide on history. Click here to find books, articles, websites and other sources for great reading!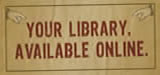 For more information on American History, visit:
American History in Video This database provides the largest and richest collection of video available onine for the study of American History.
America: History and Life is a historical and cultural coverage of the United States and Canada from prehistory to the present.

E-NEWS : JULY 2011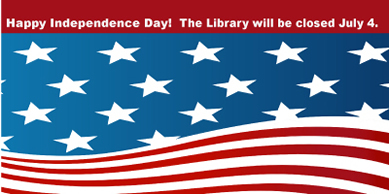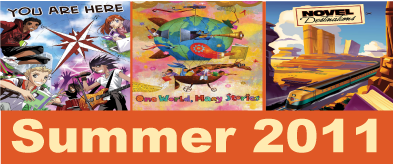 CHILDREN'S

Thursdays - Silly Stories with The Shermanettes
10:30-11:15am All ages with caregiver
Every week, the Shermananettes, winners of the South Florida Parenting Kid's Crown Award, take a world-wide, whirlwind voyage ! Travel the world through books, art, literature and puppetry with silly stories and songs.
July 7: Silly Stories with the Shermanettes
July 14: Silly Stories with the Shermanettes
July 21: Silly Stories with the Shermanettes
July 28: Safari Sue's Adventure Show
Go on an interactive adventure full of education and excitement!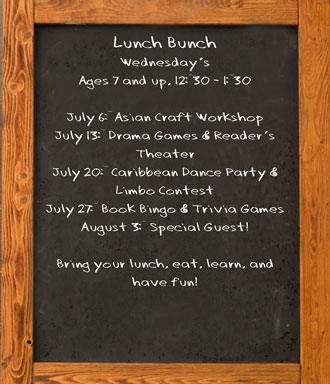 Saturdays 2-3pm All ages with caregiver
July 2: Family Fun Day!
July 9: Geddy the Gecko's Multi-Cultural Dances from Around the World!
Children learn & participate in dances from 8 countries from a top-ranked performer!
July 16: Fantasy Factory Theatre's Fantasy Stew
Enjoy the hilarious antics of Fantasy Factory's comedy show.
July 23: Louines-Louinis Haitian Dance Theater
Musical storytelling and dance from Haiti.
July 30 : Jiggleman's Out of the World, Wild & Wacky Show!
Don't miss this comedic actor and balancing act – he's performed on The Late Show with David Letterman 7 times!


TWEENS


July 5: Morikami Japanese Craft Workshop
Experience the essence of Japan in Florida. Discover The Morikami." Pre-registration in person or call 954-262-5477.
July 12: Acting Workshop
Professional stage actor, Larry Fields. Limited space. Pre-registration in person or call 954-262-5477.
July 19: Put on Your Boogies Shoes
Learn Brooklyn Disco, Domincan Merengue, the Israeli Hora and more!
July 26: Positively Africa: Live Music!
"Telling the other side of the African story through music."

TEENS


Get Your Game On! Hang out in the Teen Room and play PS3 & Xbox360. Call for times!
Teen Volunteer Orientation 2-4pm Ages 14-18 July 9




ADULTS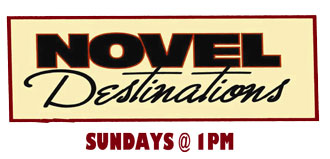 July 10: Chanoyu Culture: Japanese Tea Ceremony
Chieko Mihori performs the 400-year-old tradition of chanoyu, the Japanese tea ceremony, with a demonstration and explanation of the procedure, use, and symbolic identity of essential utensils.Pre-registration required.

July 24: Egyptian Belly Dance


Rosemary San Nicholas brings you Modern Egyptian "cabaret" belly dancing. Rosemary discusses the origin of Egyptian belly dance and demonstrates basic moves. Pre-registration required.
Saturday, July 16 11am-12pm
Computer Camp: Discover E-books
Find and read E-books using the NovaCat online catalog. No E-book readers necessary. An Alvin Sherman Library card and pre-registration are required for this class.

GENEALOGY
Sunday, July 3 12 noon-2:00 pm
Genealogical Society of Broward County: Open Lab
The Genealogical Society of Broward County's monthly meeting is held at the Alvin Sherman Library on the first Sunday of every month unless otherwise noted.
Join the GSBC for an open lab for those who want to work on their genealogy projects or who need assistance in doing genealogical research. Sponsored by the Genealogical Society of Broward County.