E-NEWS : MARCH 2011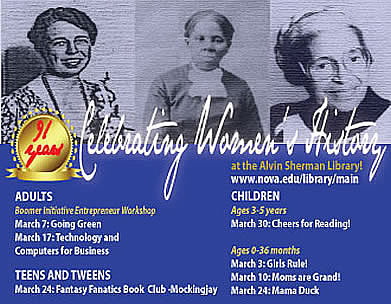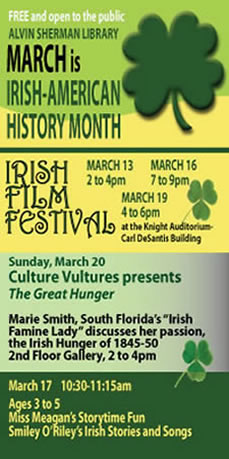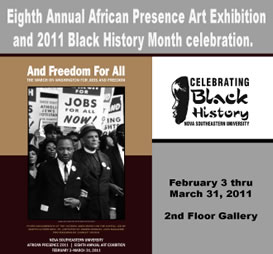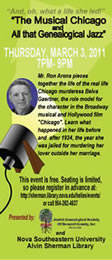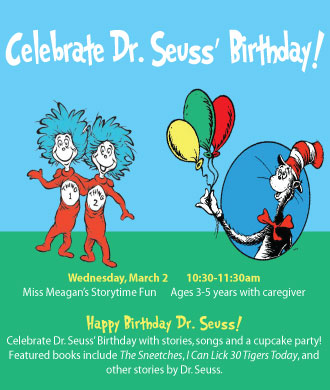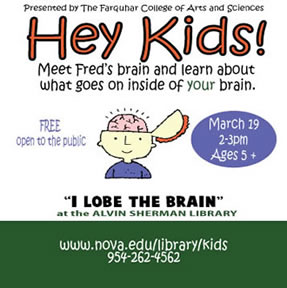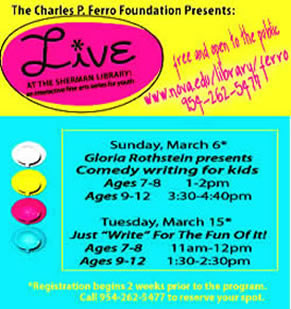 Childrens
Saturday, 19 2-3pm
I Lobe the Brain!
Meet Fred the Head and learn all about the 4 lobes of your brain through an interactive talk where you can touch and feel what's going on inside your head! Brain crafts and stories will also be featured.

What is the Family Literacy University?
Learn how to develop the six early literacy skills your child needs to be ready to read.
Little Learners Open Lab:
Explore the world online in a relaxed, one-on-one environment with sites recommended by the American Library Association's Great Websites for Kids committee.
Miss Meagan's Storytime Fun
10:30-11:30 a.m. Ages 3-5 years with caregiver
March 2: Happy Birthday Dr Seuss!
Celebrate Dr. Seuss' Birthday with stories, songs and a cupcake party! Featured books include The Sneetches by Dr. Seuss and I Can Lick 30 Tigers Today, and other stories by Dr. Seuss.
Click here for classic Seuss stories!
March 9: The Art of Reading
Celebrate Youth Art Month with stories, songs and special arts and crafts! Click here for books about art!
March 16: Hit a Homerun with the NSU Softball Team!
The NSU Softball Team shares their favorite stories and songs. Get autographs and photographs with the star players!
March 23: Bear-y Good Books
Join us for Miss Meagan's favorite books about bears including Old Bear by Kevin Henkes, Polar Bear, Polar Bear What Do You Hear? by Bill Martin Jr., and Bear Wants More by Karma Wilson.
March 30: 3 Cheers for Reading!


Celebrate Women's History Month with celebrity guest readers, the NSU Cheerleaders! Take a picture with the team; the cheerleaders will sign your special cheer craft. Click here for books about cheerleading!

Miss Meagan's Tiny Tots Storytime
10:30-11:30 a.m. 0-36 months with caregiver
March 3: Girls Rule!
Join us as we celebrate Women's History Month with books featuring fantastic, fabulous female characters! Featured books include Silly Sally by Audrey Wood and The Aunts Go Marching by Maurie J. Manning. Click here for books starring fun and funny girls!
March 10: Moms are Grand!
Join us as we celebrate Women's History Month with books about moms and grandmas! Featured books include The Mommy Book by Todd Parr and The Grandma Book by Todd Parr. Click here for books about mommies!
March 17: Smiley O'Riley's Irish Stories and Songs
Celebrate St Patrick's Day with an Irish-American themed storytime with stories and songs about luck, limericks and leprechauns told by Smiley O'Riley! Click here for books about St. Patrick's Day!
March 24: Mama Duck
Join us as we celebrate Women's History Month with books about mama ducks!. Featured books include Five Little Ducks by Ivan Bates and Mommy, Is That You? by Atsuko Morozumi. Click here for books about mama ducks!
March 31: B is for Books!
Join us for Miss Meagan's favorite books for children ages 6 – 36 months! Find fun, age appropriate books to share with your child.


Teens and Tweens
Hang out in the Teen Room! Play PS3 & Xbox360 video games, watch movies, or even do homework! The Teen Room is open after school and on weekends just for teens ages 13-18 whenever a Teen Room Host is available.
Check the Teen Room Blog for volunteer info, teen events, and lists of new library materials for ages 13-18 by clicking here. Find us on Facebook! "Like" the Teen Events at the NSU Alvin Sherman Library Facebook Fan Page and receive info on upcoming teen events for ages 13-18.
March 1-11 Ages 13-18
Mix & Mash: Technology Collection
Drop off your old or outdated pieces of technology to be used in our March Mash-Up Art Recycling Project "Technology Through Time," in recognition of Teen Tech Week: Mix & Mash! Items (such as old cell phones, cassettes, Nintendo games, records, etc.) do not need to be in working order!

Sunday, 6 3-5pm Ages 14-18
Teen Volunteer Orientation
Earn community service hours for school! Visit the PLS Desk on the first floor of the library or click here for applications and instructions. Applications must be submitted prior to orientation and applicants will be contacted via email on a first come, first serve basis to attend. Limited spaces are available.
Friday, 11 4:30-5pm Current TAB Members
TAB Meeting
Teen Room Hosts, and interested Teen Volunteers. Come discuss plans for our upcoming teen events while working on the Teen Tech Week art project!


Teen Manga Club Tuesday, 22 5:30-6pm Ages 15-18
Join fellow Otaku (fan of manga) and discuss your favorite shōnen and shōjo! Cos-play is optional and costumes must follow the library's dress code.
Teen Video Game Club Tuesday, 22 6-6:30pm Ages 13-18
Come share your favorite video game codes and strategies while you play PS3 and Xbox360 in the Teen Room!
Free Sketch Teen Art Club Wednesday, 23 5-6pm Ages 13-18
Like to draw, design, and inspire? Join fellow artists in the Teen Room to practice your skills and share techniques. Bring your own materials.
Banned Books Teen Book Club Wednesday, 23 5:30-6pm
Mature readers, Ages 15-18


This month's book is Catch-22 by Joseph Heller. In the final months of WWII, American soldier, Captain Yossarian, is caught in a dilemma. He wants to request to be grounded from any more bomber missions, but by making this request, he'll be considered fit for another mission. With no other options, he'll now do whatever it takes to escape this Catch-22 and stay alive.
Fantasy Fanatics' Teen Book Club Thursday, 24 5:30-6pm Ages 15-18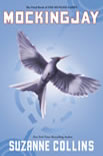 This month's book is Mockingjay by Suzanne Collins. Katniss has endured The Hunger Games, twice. Now, she must face President Snow's wrath for unknowingly sparking a nation-wide rebellion against The Capitol. Desperate for change, the rebels have turned to her as their symbol of hope. But does Katniss have the strength or desire to become their Mockingjay?

Romance Readers' Teen Book Club Friday, 25
5:30-6pm Ages 15-18


This month's book is Accidental Love by Gary Soto. Cool, street-smart Marissa is surprised to learn that she might actually be falling for a guy that is completely not her type, raising the question, "Do opposites attract?"


Adults
Sunday, 6 2:30-4pm 2nd Floor, Lab A
Genealogical Society of Broward County: Come Out, Come Out, Wherever You Are: Hide and Seek On the Internet
Donna M. Moughty will present a special program on doing genealogy research with Internet technology. Donna is a professional genealogist and former regional manager for a national technology company. She have been conducting family research for over 15 years. For more information about Donna and her work see: http://www.moughty.com

Boomer Initiative Entrepreneur Workshop:
If you're a Boomer who is retired or will soon retire and you are thinking about starting your own business or are a small business owner already wanting to accelerate growth or add a social impact component to your business, you won't want to miss the Boomer Entrepreneur Initiative. These workshops are presented by the Florida Women's Business Center (FWBC) and funded by the Community Foundation of Broward. The FWBC is a program of the TED Center. Registration is required. (Max 15 persons)
Monday, 7 6-7:30pm Rm 3018 Going Green
Thursday, 17 6-7:30pm Rm 3018 Technology and Computers for Business

Sunday, 20 2-4pm 2nd Floor, Gallery
Culture Vultures present The Great Hunger
Marie Smith is known in South Florida as "the Irish famine lady." Her passion, the Irish Hunger of 1845-50, has led her to champion human rights for Northern Ireland as well as generate an understanding of The Great Hunger and its effect on American and world history.

Satuday, 26 12:30-2:30pm 1st floor, Room 1054
African Diaspora Genealogy Group
Join others interested in learning more about African Diaspora genealogy. This support group meets informally on the fourth Saturday of every month at the Alvin Sherman Library. For more information about the group contact adgenealogy@gmail.com.


Adult Computer Camp
Tuesday, 8 2-4pm Lab B
Computer Camp: Microsoft Powerpoint
Create a slideshow presentation using Microsoft Powerpoint. Whether it's a project for work, school or just for fun Microsoft Powerpoint can provide the extra finishing touch you need. Prerequisite: Basic computer skills. (Registration required max. 15 persons).
Saturday, 12 1-3pm Lab A
Computer Camp: Google Docs
Learn how to create, share and store documents online with Google Docs. Please note: Class requires basic computer skills such as moving the mouse, copy and paste and typing.