E-NEWS : DECEMBER 2010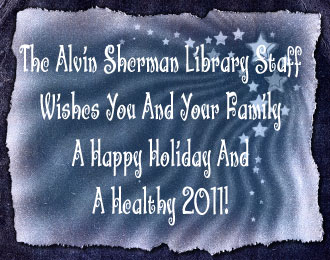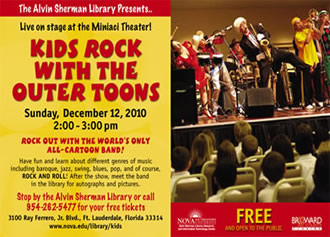 CHILDREN
Wednesdays 10:30-11:30am 3-5 years with caregiver
Miss Meagan's Storytime Fun
December 1, 8, 15
Miss Meagan's Storytime Fun, Family Literacy University, Little Learners Open Lab
Thursdays 10:30-11:00am 6-36 months with caregiver
Miss Meagan's Tiny Tots Storytime
December 2, 9, 16
Miss Meagan's Tiny Tots Storytime, Family Literacy University
Sunday, December 12 2-3pm
Live on stage at the Miniaci Theater:
KIDS ROCK WITH THE OUTER TOONS!
Live on stage at the Miniaci Theater: Rock out with the world's only all-cartoon band! Have fun and learn about different genres of music including baroque, jazz, swing, blues, pop, and of course, ROCK AND ROLL! This colorful, lively musical concert will take place in the Miniaci Theater. Call 954-262-5477 for your free tickets. After the show, meet the band in the library for autographs and pictures.


TWEENS and TEENS
Hang out in the Teen Room! Play PS3 & Xbox360 video games, watch movies, or even do homework! The Teen Room is open after school and on weekends just for teens ages 13-18 whenever a Teen Room Host is available.
Check the Teen Room Blog for volunteer info, teen events, and lists of new library materials for ages 13-18 at http://blogs.library.nova.edu/teenroom
Find us on Facebook!
Get up-to-date info on teen events for ages 13-18 by becoming a fan of "Teen Events at the NSU Alvin Sherman Library" on Facebook.
December 6
5:30-6pm Ages 15-18
Teen Manga Club
Come discuss your favorite shōnen and shōjo! If you are not already a fellow Otaku (fan of manga), then come find out what makes them so awesome!
December 11
2-4pm Ages 14-18
Teen Volunteer Orientation
Earn community service hours for school! Visit the PLS Desk on the first floor of the library or http://blogs.library.nova.edu/teenroom/volunteer/ for applications and instructions. Limited spaces are available. Applications must be submitted prior to orientation. Applicants will be contacted via email on a first come, first serve basis to attend.



ADULTS
December 5
12noon-4pm 2nd Floor, Lab A
Genealogy-GSBC
Join the Geneaological Society of Broward County for its monthly meeting. Bring a friend!
December 12
2-4pm 2nd Floor, Gallery
Culture Vultures Presents: A Celebration of Music
Damira Feldman, Russian-born concert pianist, will delight you with her eclectic and comprehensive repertoire. She has received rave reviews for her dynamic and dramatic interpretation of composers ranging from 17th century Classicism to 20th century Modernism.
December 18
1-3pm 1st Floor, Room 1017
You Make It, You Take It
Take a break from the holiday rush and make your very own craft piece using pine cones, glitter, silk flowers and more. Materials are free. Bring your imagination and enthusiasm.


Adult Computer Camp
December 4
1-3pm 2nd Floor, Lab B
Computer Camp: Basics Review Computer Class
Refresh your word processing, Internet search, and e-mail usage skills. Bring your questions. The class is adapted to each participant's needs. Register here! Max 22 persons.