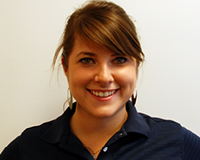 Molly Kresl
GA for Student Organizations
Office of Student Activities
"They treat me as a full time professional here. Where other schools have coordinators, this school has graduate assistants. We have a close knit group of student affairs graduates in both the first and second year cohorts. I love the relationships between the offices on campus, and if you need help, you can always reach out to your fellow Graduate Assistants for a great group to help out. I have had the opportunity to present at conferences on campus, and create new student development initiatives. I know I made the right choice."
Class of 2014