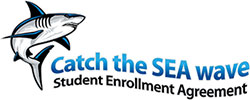 Student Enrollment Agreement Requirement
All students must complete the Student Enrollment Agreement (SEA) in order to register for classes. The SEA requires students to agree with NSU standards and policies regarding course registration and withdrawal, financial responsibility, a release of liability, and more. Students registering for courses will be prompted to complete the form as part of the registration process on SharkLink and Self-Service Banner (SSB).
To complete the SEA, follow the steps below once registration has opened:
Log in to SharkLink.
Select the "Academics" tab.
In the "Useful Links" section select "Registration - Add/Drop/SEA."
Click "Register for Classes."  
After selecting the appropriate term, you will be presented with the SEA.
Students must complete the SEA or course registration will not occur.
For more information, please view a copy of the SEA or see our FAQs.