Archives
YEN Quality Improvement Initiative
For the last decade, Project RISE has been providing assessment, training, and onsite support for afterschool providers serving children and youth of all ages. Starting 2015, we are extending our services to include all Youth Enrichment (YEN) Providers!
YEN YPQA Kickoff & PQA Basics Training
The Children's Trust hosted a YEN Kickoff on July 11, 2016 and a YEN YPQA Basics Training on August 1, 2016. A representative from The David P. Weikart Center for Youth Program Quality led the group through:
Learning about the youth program quality construct,
Learning what the Youth Program Quality Assessment (YPQA) is,
Learning the basic steps of the Youth Program Quality Intervention (YPQI), and
The next steps of the YPQI
To access the PowerPoint presentation and an online version of the YPQA Basics training, please visit our YPQA page.
YEN Provider Networking Meeting
Youth development studies tell us that quality out-of-school time programming offers middle and high school youth opportunities to learn new life and work skills, strengthen academic skills, and develop supportive relationships with adults. They also tell us that getting these young people—who, unlike small children, are rarely required by parents to participate in programs—through the program's door is not always easy. That's why The Children's Trust-funded YEN providers planned and facilitated a networking meeting held at Nova Southeastern University's North Miami Campus on May 12, 2016. (second paragraph) During the 2015-16 school year, the Youth Development Advisory Committee (YDAC) noted the shared struggle of recruiting and retaining youth in their programs, but also identified their successes in this area as well. To ensure that all providers had the opportunity to share what works and what doesn't, 46 providers and partners participated in the first YEN Provider Networking Meeting. The results included connecting:
programs with waiting lists to share with those with low enrollment
programs with similar themes
staff to share contacts and resources
Click here to download the solutions that were generated at the networking meeting.
The YEN providers also asked The Children's Trust for some further guidance on how to include stipends and incentives in their programs. Click here to download the "Tips for Including Stipends and Incentives in your YEN Program's Budget"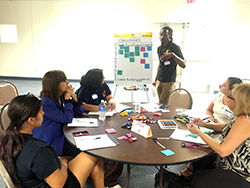 Terrance Cribbs-Lorrant, Urgent Inc, facilitates a small group at a Youth Enrichment (YEN) Provider Networking Meeting.
Youth Development Advisory Committee (YDAC)
The Youth Development Advisory Committee is a group of YEN providers who meet quarterly to tackle issues that are important to providers serving middle and high school-aged youth. The 2017-18 members include:
Ivy Bennett, Arts for Learning
Shedia Nelson, Urgent, Inc.
Dawn Bichachi, The Advocacy Network on Disabilities' All Children Together
Farlond Alexis, Gang Alternative
Anna Dilernia, The Children's Trust
Irene Farinas, Adults Mankind Organization, Inc.
Gary Francis, Touching Miami with Love
Karla Gottlieb, Opa-locka Community Development Corp
Crystal Hayes, OIC-SFL
Rick Hernandez, Boys & Girls Club
Samantha Isaacs, Boys & Girls Club
Diana Lores, Project RISE
Stephanie Martino, Florida Film Institute
Luis Pagan, Branches, Inc.
Ana Someillan, Adults Mankind Organization, Inc.
The YDAC has assisted in the development of the YEN Provider Survey and hosting the YEN Networking Meeting.
YEN Provider Survey 2016-17
In October 2016, the YDAC surveyed YEN providers to check in on how things were going and to ask how the YDAC can assist them this year. The results of the survey showed that:
Approximately 40% of providers reported that recruitment and retention efforts were at least "somewhat easier" as compared to last year.
Approximately 90% of providers reported that the strategies implemented by the YDAC last year were at least "somewhat helpful."
Providers seemed to be most interested in the YDAC providing written tips on YPQA strategies and family engagement. 
YEN Provider Survey 2015-16
In December 2015, Project RISE, with collaboration from CCDH's All Children Together (ACT) project, conducted an online survey of YEN providers funded by The Children's Trust to assess their areas of need for capacity building. Download a copy of the report to read the results of survey!