Congratulations to all our winners in this year's contest.
Each year, we receive approximately 2,000 entries from more than 100 middle and high schools across the state of Florida. All contest submissions are judged by a panel of volunteer educators and community members. Judges select the winners based on the thoughtfulness and uniqueness of the student's reflection; the clarity of their message as expressed through their project; and the level of skill and creativity evoked through their writing, art, or video production.
Prizes for the winners have included up to $1,000 per student plus additional monies awarded to their teachers and schools, all-expense paid chaperoned trips to Washington, D.C.'s historical sites including the U.S. Holocaust Memorial Museum, private tours of the Craig and Barbara Weiner Holocaust Reflection Resource Center, meetings with Holocaust survivors, and an annual awards ceremony and reception on the NSU campus.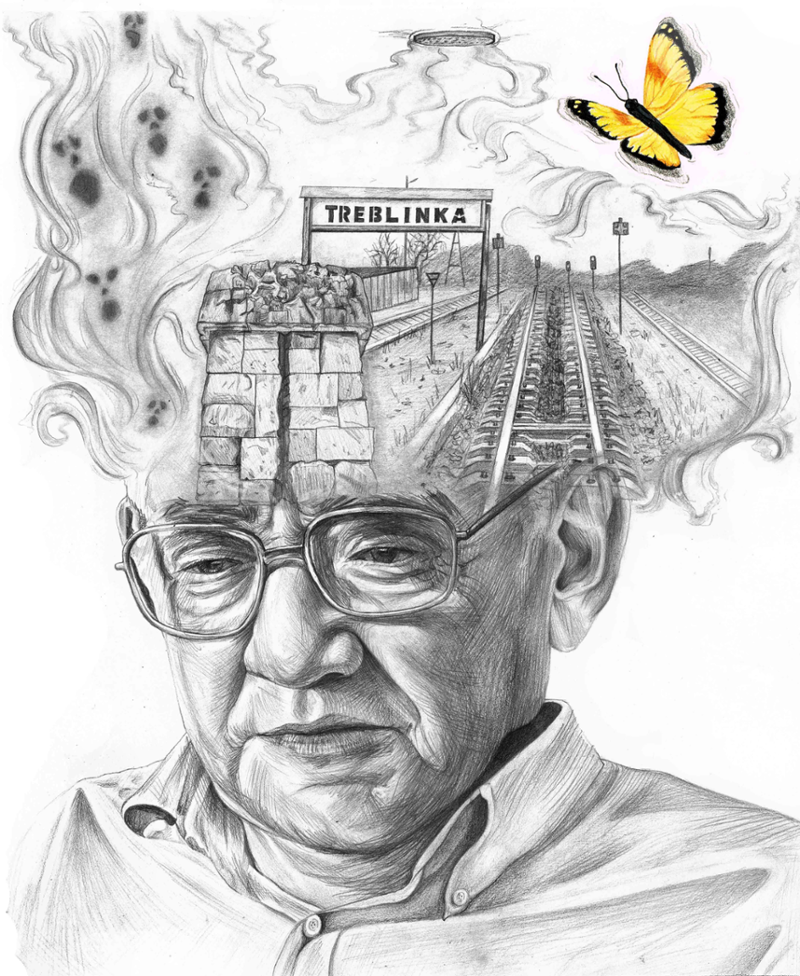 1st Place  |  "Unthinkable Nightmares of the Past"
Art
By Ruby Feng
Teacher: Xinlin Fan
Seminole High School, Seminole County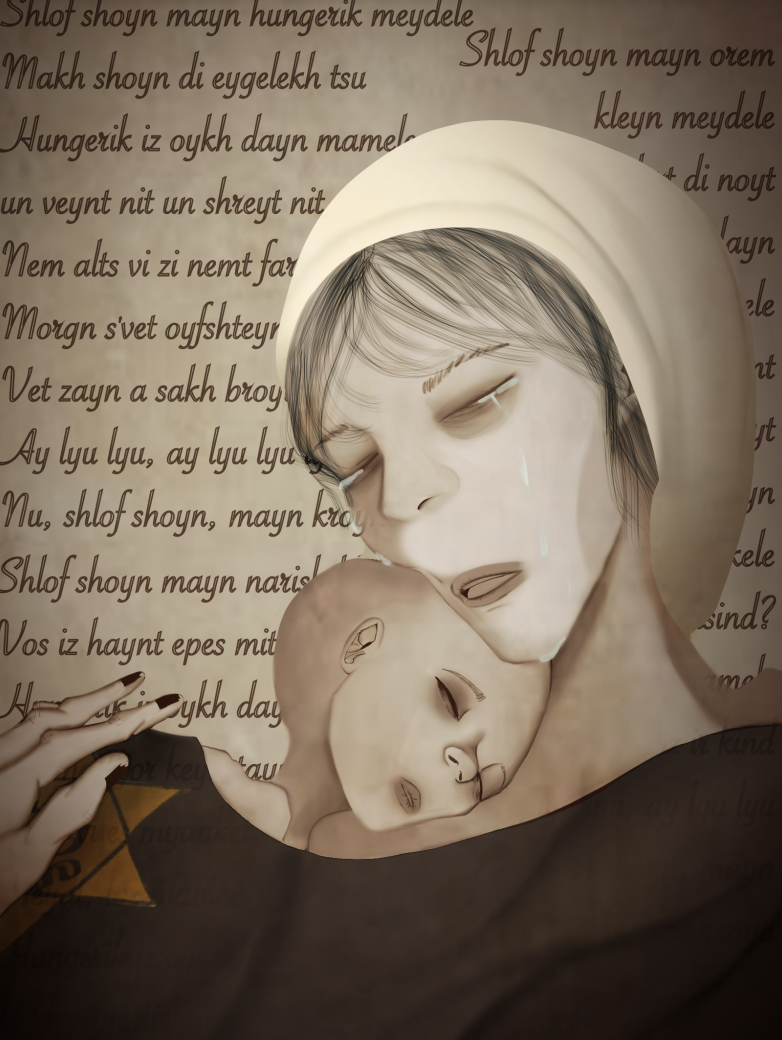 2nd Place  |  "Sleep Now my Hungry Child"
Art
By Kaly Rodriguez
Teacher: Brian Lynn
Charles W Flanagan High School, Broward County
1st Place  |  "Pinchas Dov "
Essay/Poem
By Esther Janowski
Teacher: Janet Conard
Rohr Bais Chaya Academy, Broward County
It's 1939, There're rumblings of war, A newborn in my arms, So, the news I do ignore. Another year's gone, I'm forced to grow-up fast...
2nd Place  |  "On the Side of the Road "
Essay/Poem
By Bradley Ginsburg
Teacher: Scott Barrow
NSU University School, Broward County
As Edith Reiss watched a Jewish man kicked into the gutter, We've watched the story play again and again. The preamble of the Shoah began long before 1939...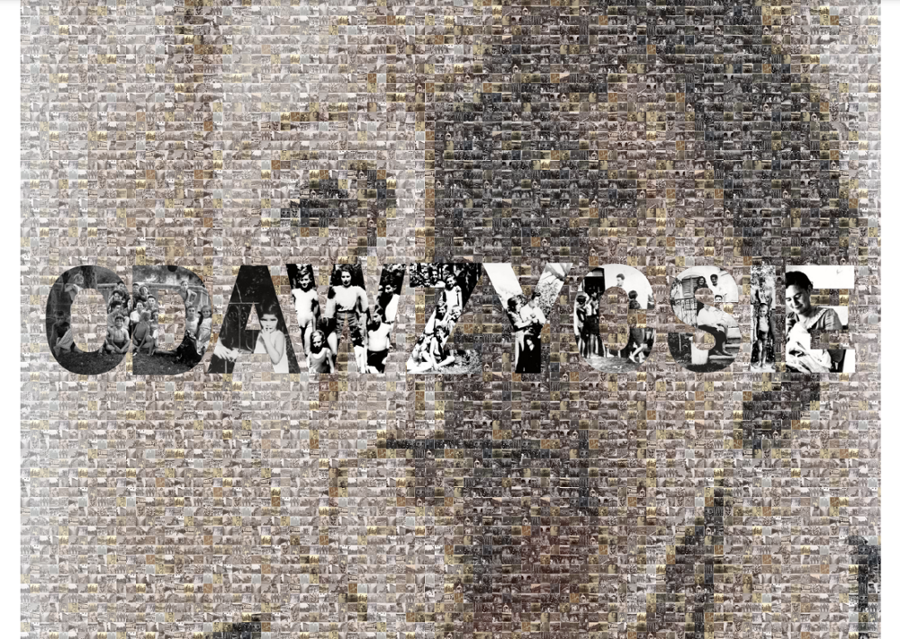 1st Place  |  "Courage"
Art
By Bryan Kornegay
Teacher: Steven Hammerman
The Greene School, Palm Beach County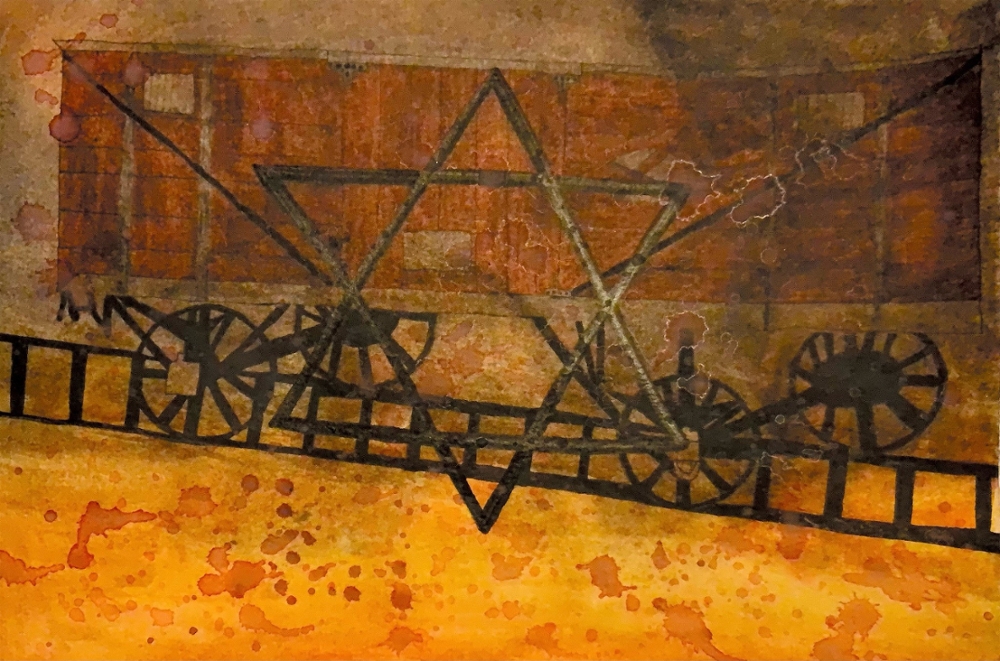 2nd Place | Burning Cattle Car
Art
By Briley Hanlon
Teacher: Karly Ferguson
Community Leadership Academy, Leon County
1st Place | Two Girls on Main St.
Essay/Poem
By Tali Kliksberg
Teacher: Shira Greenberg
David Posnack Jewish Day School, Broward County
One pretty girl, whose name is called, Her last whispers of time stolen in a breath, A heavy verdict with no trial, no crime, Existing is cause enough for death...
2nd Place  | Journey Through the Eyes of a 7 Year Old
Essay/Poem
By Hobbes Liebschutz
Teacher: Risa Bender
Don Estridge High Tech Middle School, Palm Beach County
A big black taxi was the first step, to our new life, In a new land. An unknown land, Terrifying yet safer than where we fled from, No more gas, Horse drawn carriage, My 7 year old self loved that horse so much...