Congratulations to all of our student winners.
Each year, we receive approximately 2,000 entries from more than 100 middle and high schools across the state of Florida. All contest submissions are judged by a panel of volunteer educators and community members. Judges select the winners based on the thoughtfulness and uniqueness of the student's reflection; the clarity of their message as expressed through their project; and the level of skill and creativity evoked through their writing, art, or video production.
Prizes for the winners have included up to $1000 per student plus additional monies awarded to their teachers and schools, all-expense paid chaperoned trips to Washington, D.C.'s historical sites including the U.S. Holocaust Memorial Museum, private tours of the Craig and Barbara Weiner Holocaust Reflection Resource Center, meetings with Holocaust survivors, and an annual awards ceremony and reception on the NSU campus.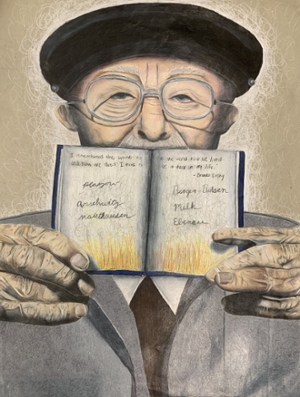 2nd Place  | "Tell the World How We Lived and How We Died…" Branco Lustig
Art
By Sofia De La Torre
Florida Christian School
1st Place  |  "Through Eva's Eyes"
Essay/Poem
By Nicole Ashley
Cypress Bay High School
Gazing at the passing ground, the snow glared back. Escape seemed so impossible, as many tried and failed...
2nd Place  |  "Remembering the Past"
Essay/Poem
By Karyssa Pancake
Osceola County School Of Arts
Abandoned streets paved with Gravestones, blood, and tears. The distant winds of the past Rolling ash and dust over What once was...
1st Place  | "Holocaust Remembrance Essay"
Essay/Poem
By Raegan Lowe
NSU University School
That spring morning in 1945, Arthur Butler, an American soldier who liberated a Nazi camp, woke up to see that his shoes had been shined. These refugees were on the brink of death, and the person...
2nd Place  | "Who Are You"
Essay/Poem
By Emma Stewart
Community Leadership Academy
You walk two miles to school each day Your heavy books weigh you down; And yet you keep going Each day without a frown. Because you are a school girl...