Use the following steps below to register for course using SSB(webstar)
Go to https://ssb.nova.edu,click Sign-In in the top right corner or enter secure area


After clicking login then entering your Sharklink ID and Password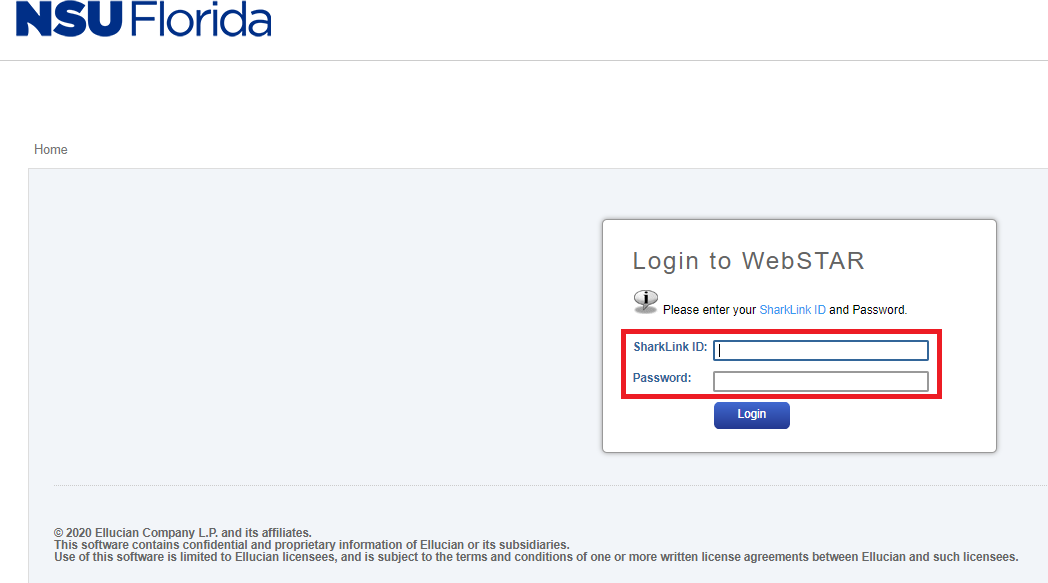 Click Student to expand the menu: click Registration then Student Registration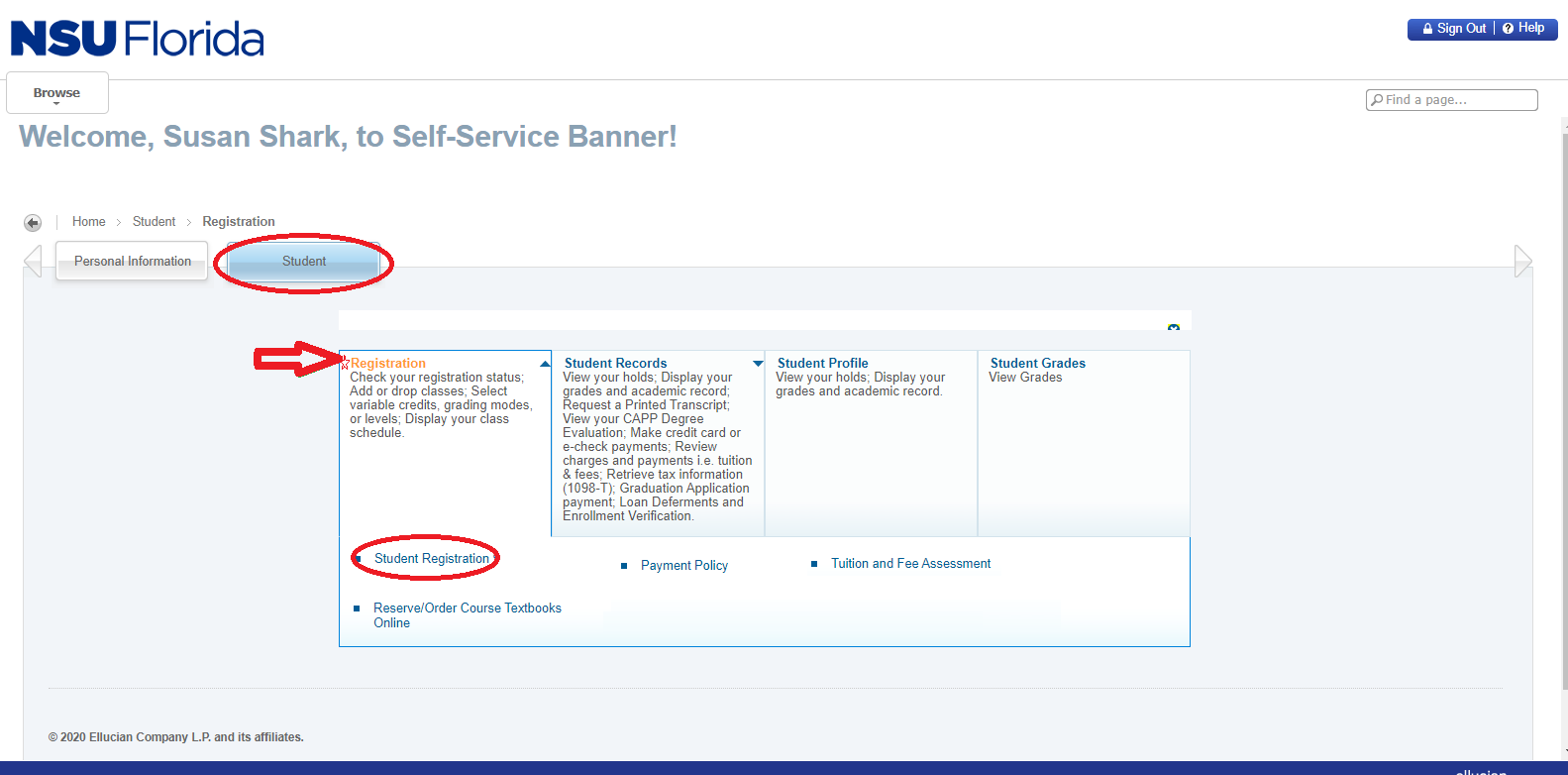 Upon clicking Student Registration you will be required to complete the Multi factor authentication(MFA) process.
 This is required when sign-in is selected and/are you are not logged into your NSU email on the same browser.
 If enter secure was used to sign in instead of "sign-in" you would of already completed this step.
Once the page open
Step1 Enter your NSU email address(@mynsu.nova.edu) then click Next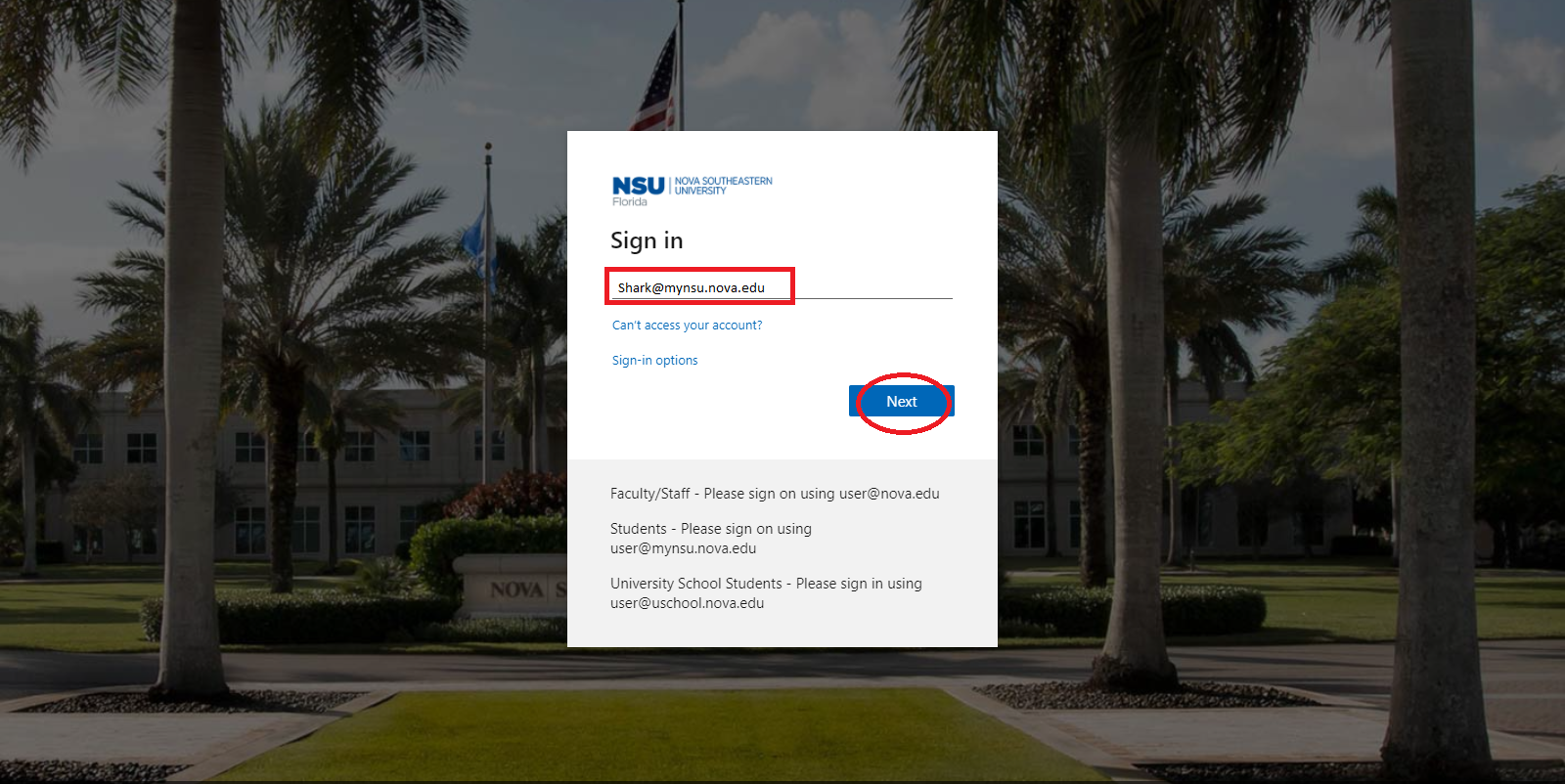 Step2 Enter your password, verify your email is correct then click Next,  complete the remanding process accordingly by following the prompts.
You will be taken to the registration page, (If not already done, you will be required read and accept the Student Enrollment Agreement Form (SEA) in order to register, click link here to see step)
Now select Register for Class

The term will be default, to select desired term click on the arrow or inside the box

Now select from the list of terms, then click continue
FYI if a desired term is not on the list, it is not yet made available for registration, for more information on term availability contact your program office.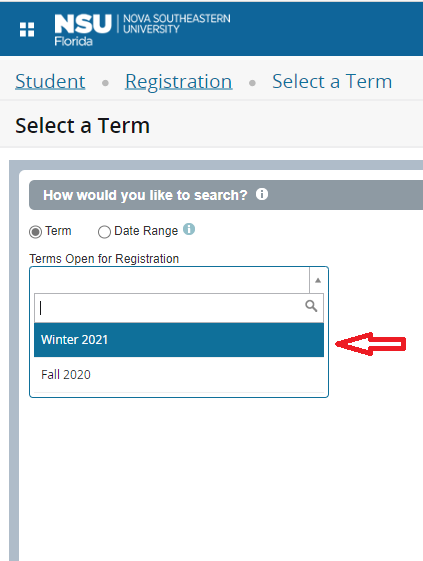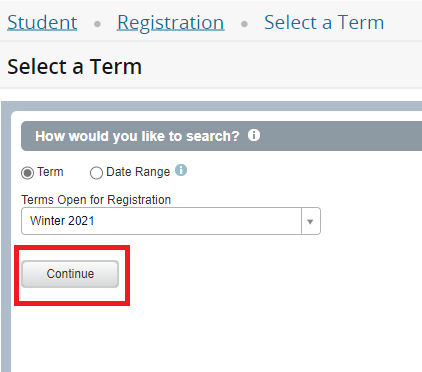 After selecting the term you will be taken to the  Add/drop Worksheet. Use one of the 2 options to complete the worksheet
Find Class: Find classes by entering basic search criteria or use the advance search
Enter CRNs: If known Enter the Course Reference number(CRN)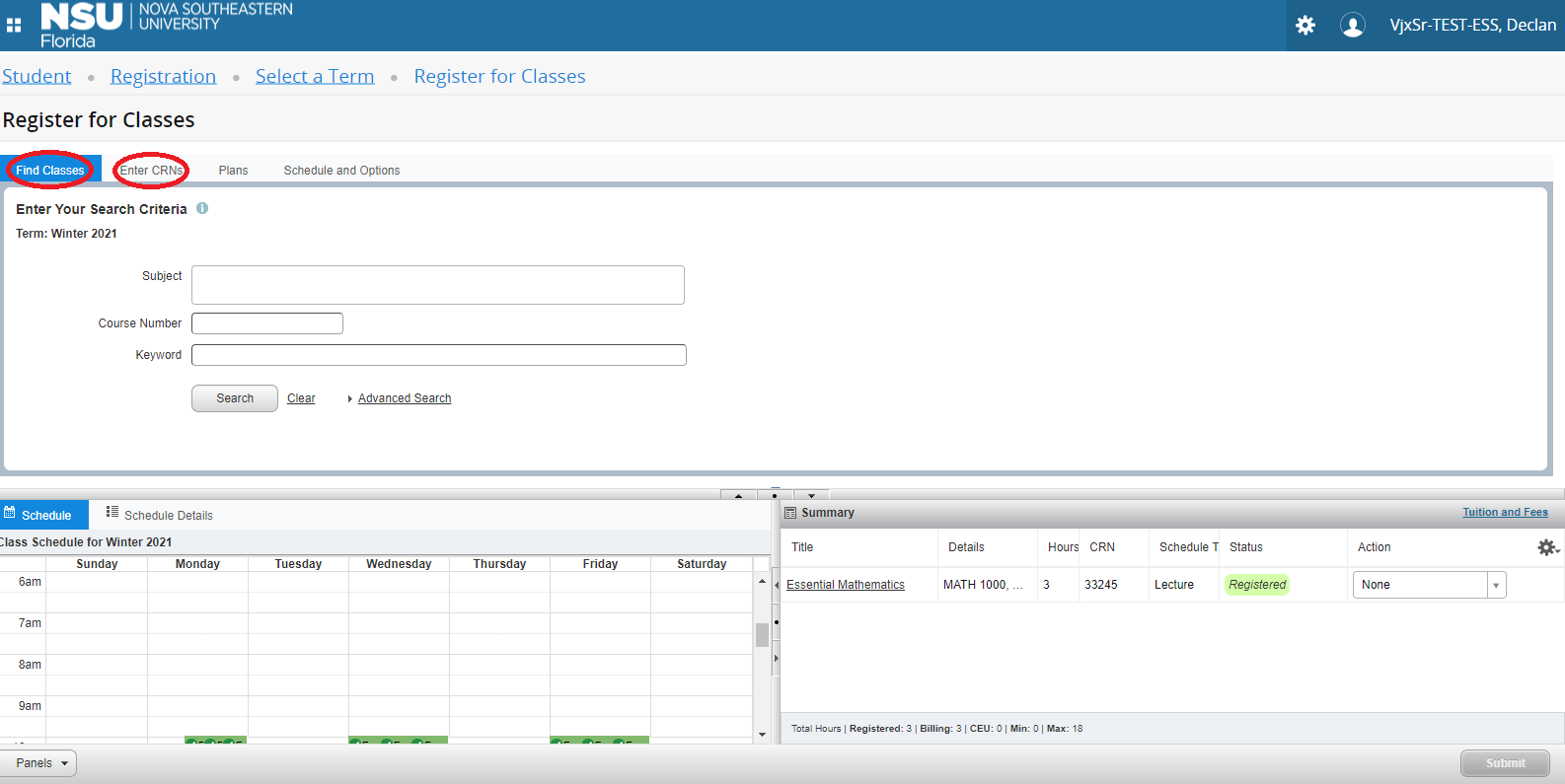 Using: Find Classes:
Click inside the subject box to select a desired Subject,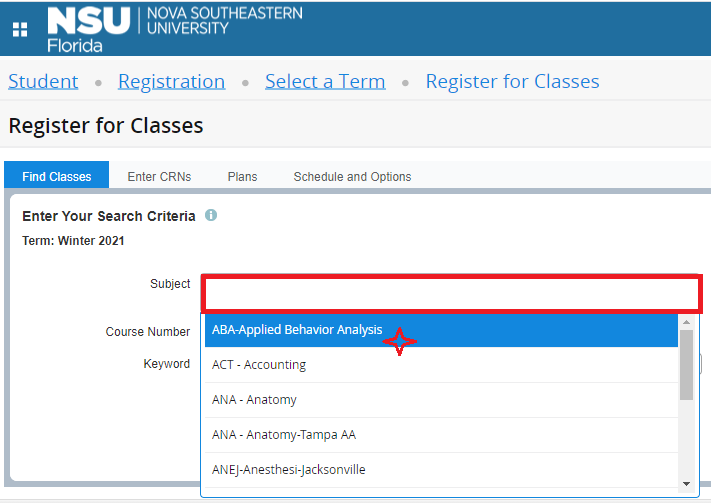 Then click search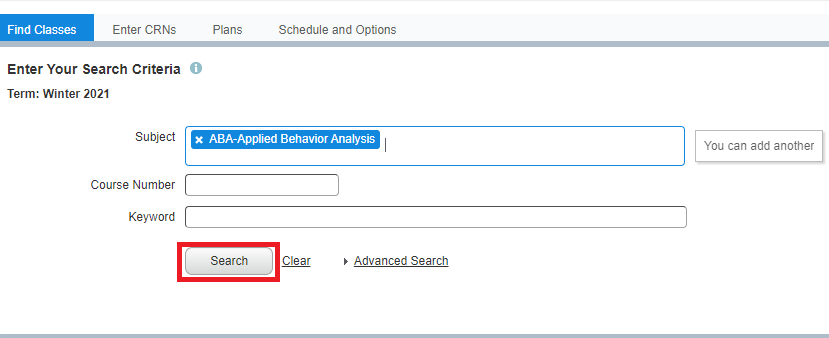 Find your desired class by scrolling through the list,
click the course name under title for additional information.
To add the course on the right click Add.
Locate and click submit at the bottom right corner to register for class.
Confirm your registration under summary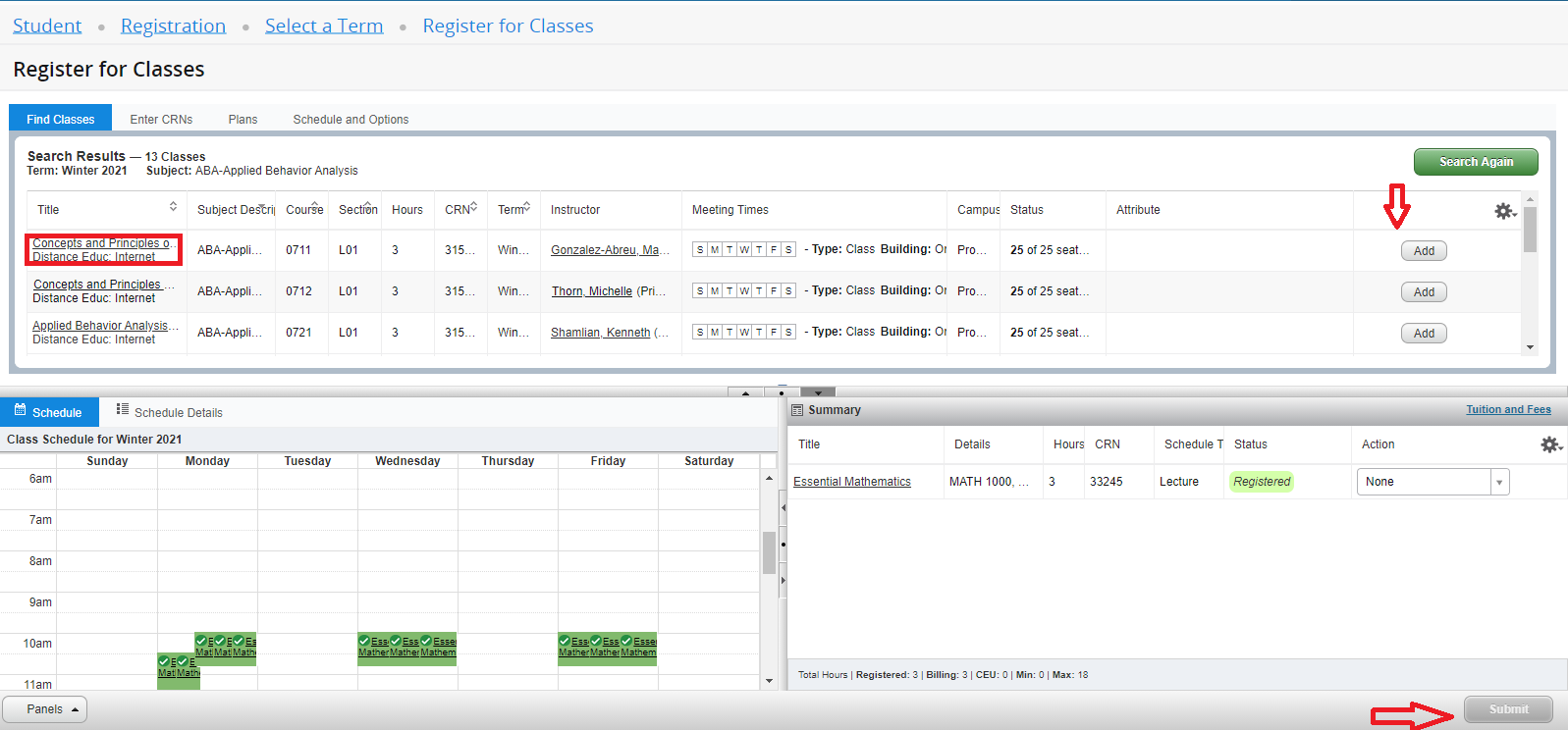 Using CRNs: select Enter CRNs
 Type the CRNs for the courses you wish to take in the box enter click +Add another CRN to add multiple CRNs at once. When you are finished add to summary then, at the bottom right click on Submit.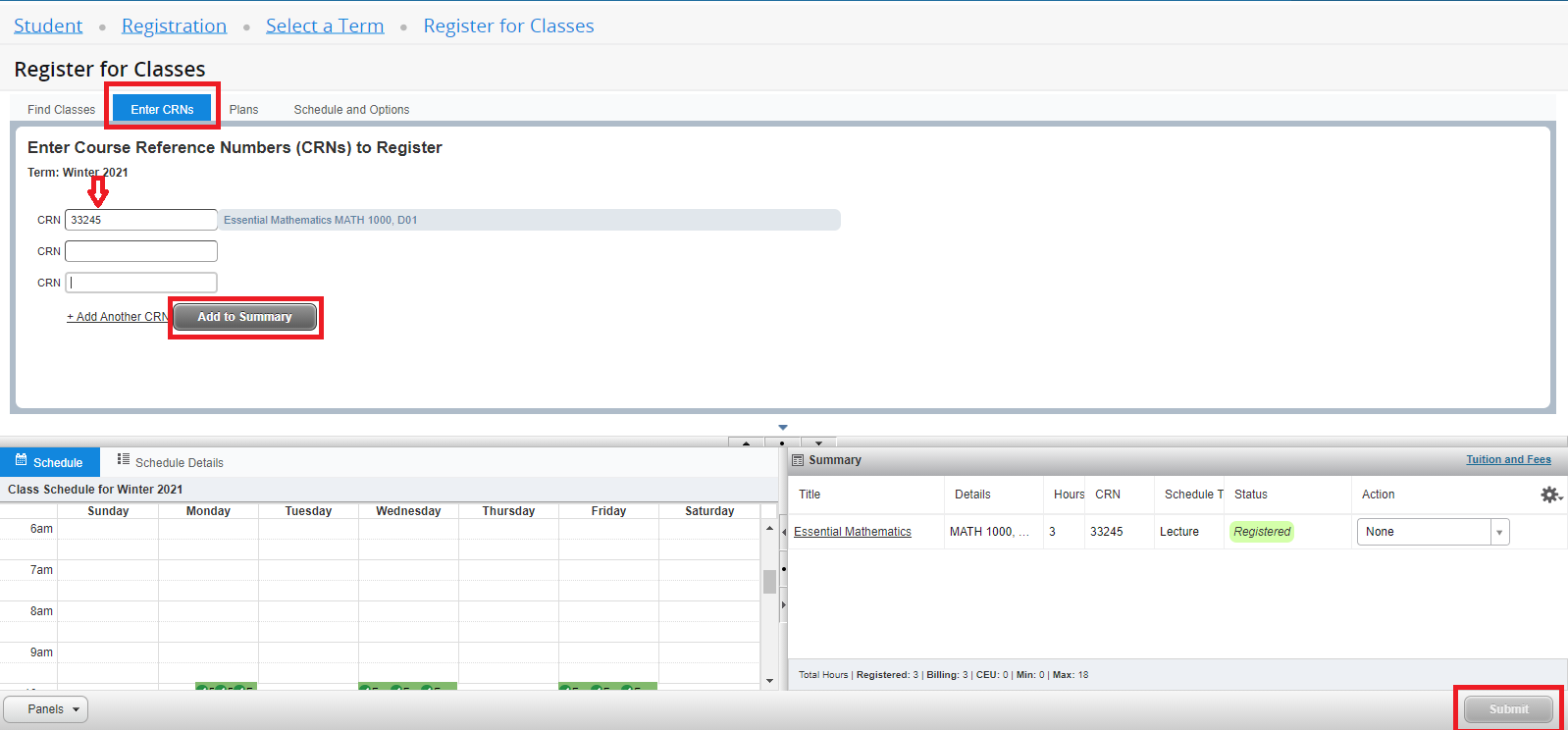 * Please Note: CRNs are usually either 4- or 5-digit numbers. They are not preceded by a subject. Example: For the course TECH 1110, "1110" is not the CRN for the course. Enter one 5-digit CRN per box.
4. Click Find Class  and follow the instructions to search for your course CRN.
5. Once you've entered the CRN(s) and clicked Submit , your registration will show under Summary .

If you receive the error: "Course not within date range for part of term" this usually means that registration for this course has been closed. You will need to contact your academic advisor for assistance.
In the event that you are unable to register for your classes or complete online course drop, you can use the
Student Transaction Form (Online).

If you have any technical issues during the registration process, please call the Shark IT Contact Center at 954-262-4357.