Top of Page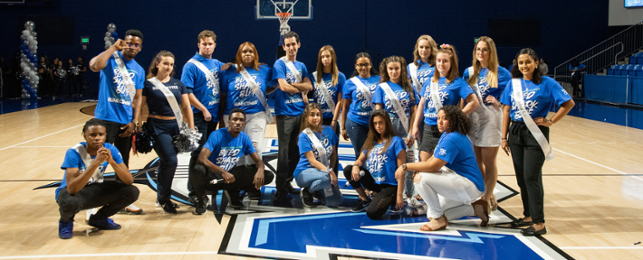 Locker Rental Policies
Guidelines
Use of any lockers is subject to the approval by the Director of Campus Life and Student Engagements or designee.
The assignment of lockers in the Rosenthal Student Center will be administered by the staff in the Office of Campus Life and Student Engagement in the OASIS (Rosenthal 201).
An application may be submitted through SharkHub.
Only registered clubs and organization in good standing will eligible to apply for and maintain their locker usage.
Locker applications submitted will be assigned on a first come first serve basis.
Once a locker request is approved, the Campus Life and Student Engagement Staff will assign a locker location and provide one key to an executive board officer of the organization.

All keys must be returned to the Campus Life and Student Engagement Office at the end of each Academic Year
A $75.00 lock change/replacement fee will be charged to the student organization for any lost or damaged keys

Lockers will be used for club and organization business only. Files, binders, office supplies, trophies, decorations, etc. are the type of items that should be stored in the locker. The following items are prohibited from being stored in the lockers:

Personal items
Food or liquids
Any combustible materials
Firearms or ammunition
Any other items prohibited from campus

All shelves must remain in the locker. Unneeded shelves can be placed at the bottom of the locker.

A $25.00 replacement fee charged to the organization for missing shelves.

The Office of Campus Life and Student Engagement reserves the right to inspect club and organization lockers to ensure all shelves are present, proper use, etc.
Students and student organizations violating the Office of Campus Life and Student Engagement Locker policies will be subject to the following:

First occurrence - official written warning
Second occurrence and beyond - loss of locker privileges and possible judicial referral to the Associate Dean of Students.

Clubs and organizations placed on "inactive" status, loose their good standing and/or choose not to continue as an organization will have two business days to remove all materials.

Any materials not removed within two business days will be removed by the Office of Campus Life and Student Engagement staff
Materials removed will be stored for two weeks. Any materials not claimed within two weeks will be disposed of.
Return to top of page