File Transfer Protocol (FTP) Instructions
FileZilla FTP
How to Install and Use FileZilla
You can download the install file for FileZilla Secure Shell from the following location: http://filezilla-project.org/download.php?type=client
Download the version that matchs your system type (Intel , PowerPC G4)
When you click the link to download the FileZilla setup file, choose to Run the file instead of Save
FileZilla will only work with Safari.
How to Publish Using FileZilla FTP
To publish your website files using FileZilla on a Mac, follow these steps:
Open your FileZilla program
Click File then select File Manager to in order to set a secure connection.

Select SFTP - SSH File Transfer Protocol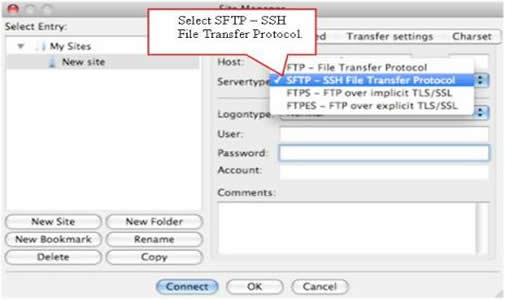 Host: nsu.nova.edu
User: Your NSU username
Password: Your password
Port: 22

On the right hand side double click public_html.

On the local site, locate your file and double click. This will open all your files within the folder you have created containing your webpage material



Below you will see the file that was transferred.

To disconnect from the Secure FTP connection click on Server then Disconnect.

You may view your NSU webpage at www.nova.edu/~username