WebMail Help Topics
Tasks
Click on the Tasks button on your toolbar and you will be see the following:

As you will notice, there are three tabs at the top - All tasks, Incomplete tasks, and Completed tasks.
To add a new task click the New Task icon on your toolbar. You will see the following.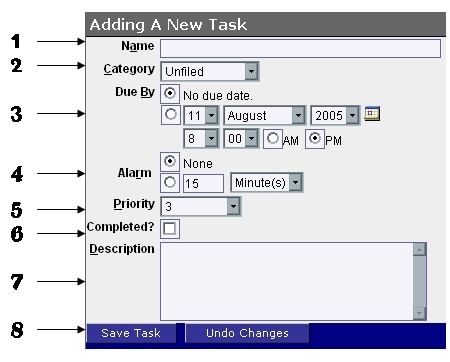 You will need to type a name for the task.
If you want to categorize your tasks, you can do so in this section.
Note: If you don't have any categories set up, you can select New Category. Once you're finished and you click Save Task, you will see the following:



Type the name of the category, then click OK.
Enter the due date of the task. If there is no set due date, leave No due date selected.
If you would like to be warned before this task is due.
Note: the alarm is just a message that will show up when you refresh your Tasklist. (See below)

Select a priority level for the task.
If this task has already been completed, put a check next to completed.
Enter a description of the task. (Optional)
When you're done entering all the information about the task, click Save Task.

You will see the task show up under All tasks. If you were to click the Incomplete tasks tab, you would see it show up there, as well.
Note: Tasks will show up in your Calendar as well.
To mark this task as complete, put a check next to it. Now, it will show up under both the All tasks tab and the Completed tasks tab.
You can search for tasks by clicking the Search button on your toolbar. You will see the following:

Enter the text you would like to search for, then select the fields you want to search for the text in.
Click Search.
To view, define and set permissions for your task list, click the My Tasklist button on your toolbar. You will see the window shown below: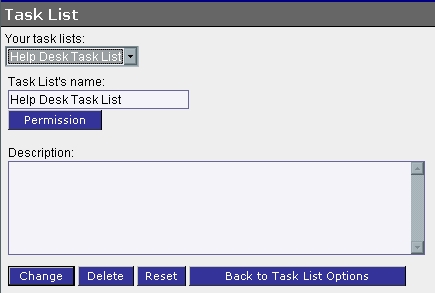 Select your task list from the drop down menu.
You can change your list's name in the text box shown.
To allow others to view and/or edit your Tasklist, click the Permission button.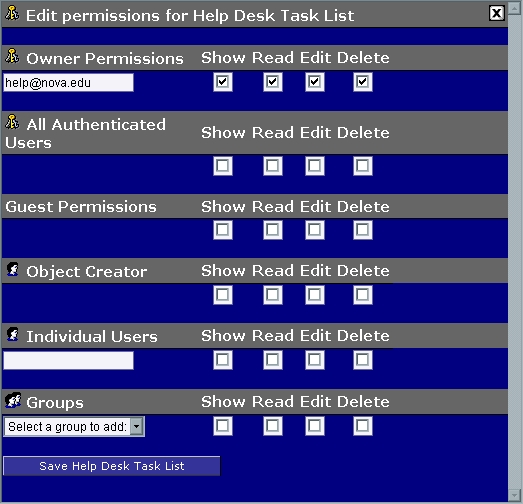 To allow another person to access your Tasklist, enter their NSU email address under Individual Users. Choose what permissions you would like for them to have by checking the appropriate boxes. When you're finished, click Save Task List at the bottom of the window.
To enter a description of your Tasklist, enter it in the text box under Description: (Optional).
You must click Change to save your changes.