Parents and Guests
Announcements and Rings
NSU Bookstore partners provide a wide selection of choices for invitations, announcements, class rings, frames, etc. These vendors offer graduation packages specifically tailored for the NSU Commencement candidate.
For rings, announcements, certificates of thanks, and other graduation needs, shop with confidence from Balfour or Herff Jones.

Purchase customized diploma picture frames from the NSU Bookstore.
Please call or email the NSU Bookstore at (954) 262-4799 with any questions or comments.
NSU Grad Fair Offers Something for Every Commencement Candidate
The NSU Bookstore will host its fourth annual Grad Fair, Friday and Saturday, May 6-7, from noon to 6 p.m., at the new Shark Store located in the Don Taft University Center (UC). Grad Fair is aimed at all candidates participating in 2016 NSU commencement ceremonies, but everyone is welcome.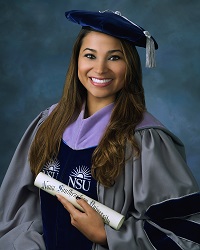 Representatives from NSU Bookstore partners Herff Jones and Balfour will be on site for personalized announcements and class ring orders. A wide variety of diploma frames will be on sale at $25.00 off retail price. Representatives from Werner Kahn Studios will be on hand to photograph graduates in academic regalia. The portrait sitting is free of charge and picture proofs will be provided with no obligation to buy.
Cap and gown pickup will also be available to those May-ceremony graduates who ordered regalia prior to April 1 (check regalia availability with the Bookstore prior to arrival).
Graduates will also be given the opportunity to purchase several optional stoles to adorn their regalia. The popular Stole of Gratitude offers candidates the opportunity to thank anyone who helped them along the way with their graduation from college. After being worn at commencement, the new graduate presents the Stole of Gratitude to someone who provided extraordinary help or support.
The international sash, with its embossed country flag, signifies pride in an international student's country of origin. The veteran sash, available for all branches of the military, brings honor and awareness of one's service to the country.
For more information on Grad Fair, contact the Bookstore at (954) 262-4799 or email regalia@nova.edu.