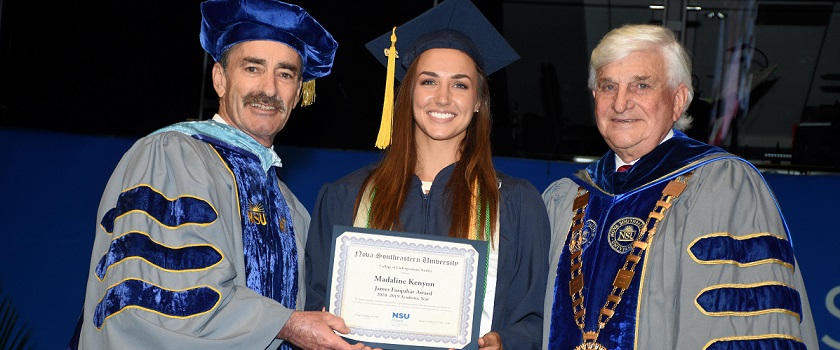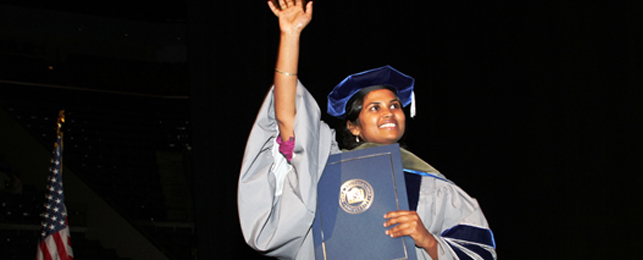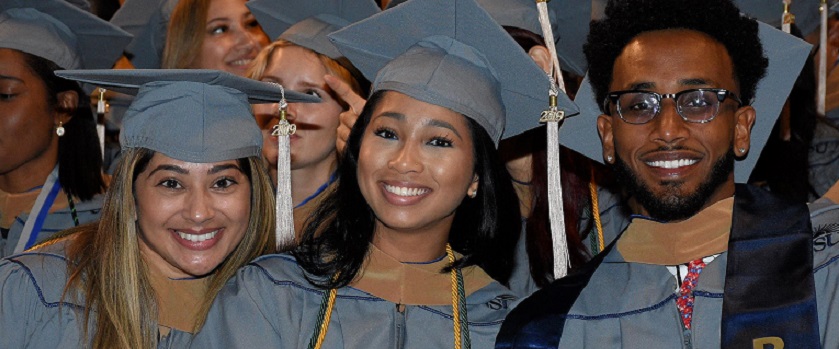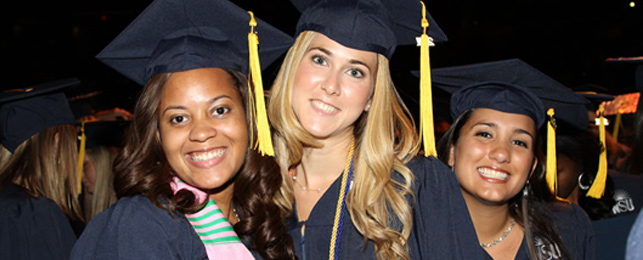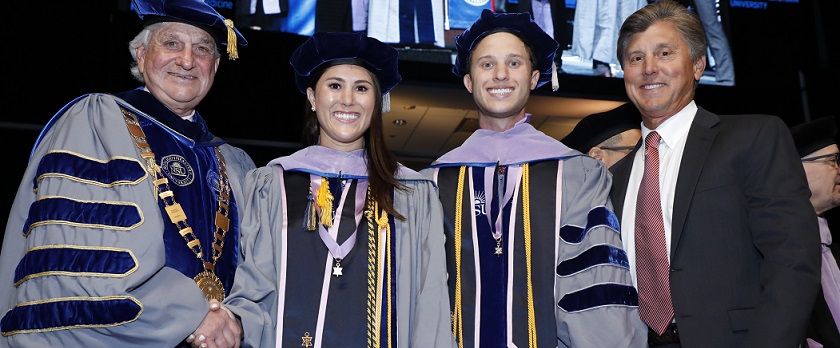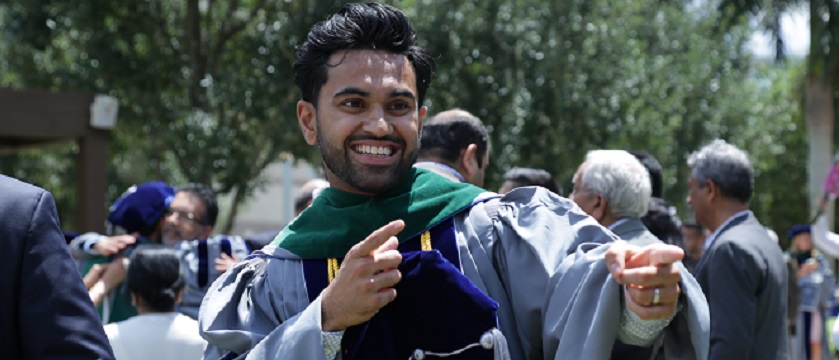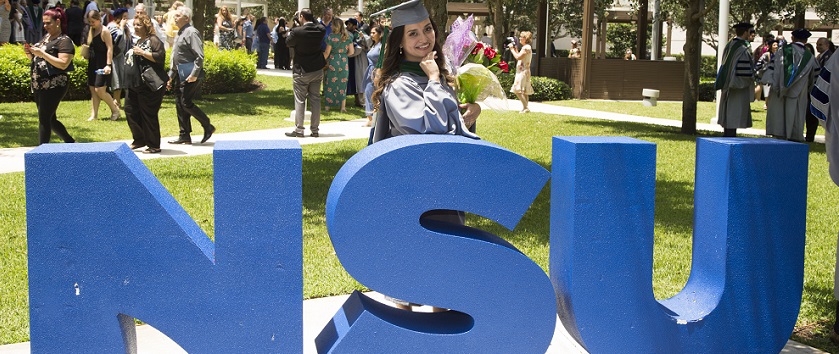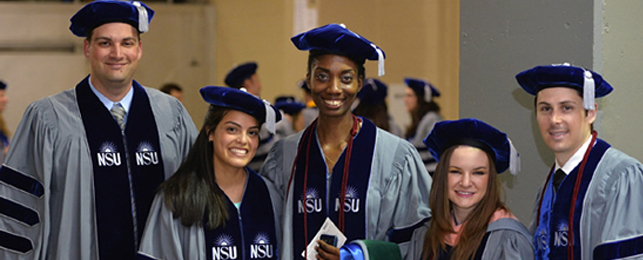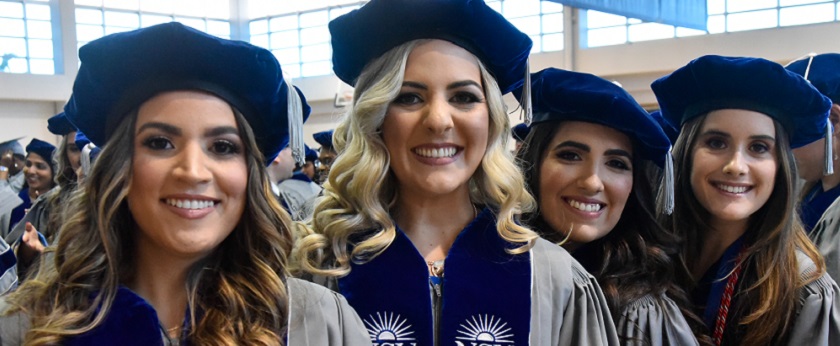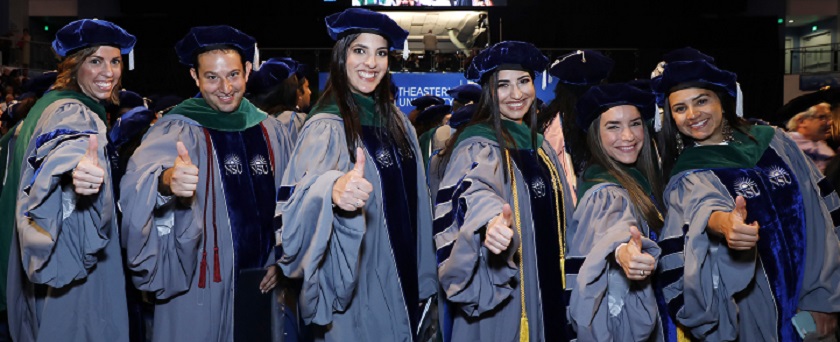 About Commencement
About Commencement
Commencement is a recognition and celebration of academic achievement and the lasting contributions that students have made to the university.
Do not confuse the degree/diploma application with commencement and your regalia purchase. These are two separate processes.
Although often used interchangeably, the words Commencement and Graduation are not the same thing. It is important to understand that participating in a commencement ceremony does not mean that you have completed your degree and actually graduated.
Commencement is a formal ceremony for students who have been cleared to walk by their school or program.
Employee Parking During Commencement
NSU's main campus has the honor of hosting the university's commencement ceremonies in the Arena at the Don Taft University Center. On the dates of commencement provided below, we are expecting considerable traffic on and around the main campus.
Guests attending commencement ceremonies will be utilizing the Alvin Sherman Library Parking garage, Mailman-Hollywood, Rosenthal Student Center, and the Carl DeSantis parking lots.
To accommodate the NSU community who utilize these parking locations, additional parking will be made available on these dates in the Blue P designated areas shown on the map below. Shuttle service will also be available for those who park in the Broward College garage from 8:00 a.m. to 6:00 p.m.
We encourage you to consider carpooling during these times.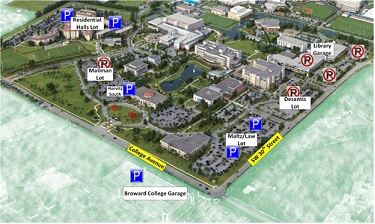 Click here to enlarge
Seating and Tickets
Families, friends, and the general public are cordially invited to attend commencement. Tickets are not required but seating is limited and large groups of guests wishing to sit together should arrive early.
Seating
The arena doors open one hour prior to the published start time of the ceremony for both candidates and their guests. Because seating is limited, please plan accordingly.
Please Note: Due to the size of the Arena at the Don Taft University Center and as a courtesy to all candidates and their guests, the saving of seats is strictly prohibited.
Simulcast Locations
Commencement guests will also have the opportunity to view a live telecast of the ceremony via closed circuit television at three on-campus locations: the Flight Deck Pub and the Performing and Visual Arts Theater in the Don Taft University Center and the Rose and Alfred Miniaci Performing Arts Center, which is part of the Alvin Sherman Library. Seating is available on a first-come basis. The sign language interpreter is visible on the live telecast screen. The simulcast viewing is not closed captioned.
The Flight Deck Pub offers a family-friendly environment conducive to guests with small children who may become fidgety due to the length of the ceremony.
All NSU Commencement ceremonies will also be videoo streamed in real time. Visit the NSU Commencement home page and click on the "Commencement Ceremony Live" icon for access. All NSU Commencement video streams are archived at www.nova.edu/commencement/archives/index.html approximately one week after the ceremony.
Commencement Dates
2016 Graduate/Professional Commencement Dates (Subject to change)
college
date
time
College of Psychology
Friday, June 17, 2016
10:00 am
College of Health Care Sciences
(Except Physical Therapy)
Friday, August 19, 2016

2:00 pm

College of Health Care Sciences
(Physical Therapy and Speech-Language Pathology)
Friday, May 20, 2016

4:00 pm

College of Dental Medicine
Friday, May 20, 2016

10:00 am

College of Medical Sciences
Friday, May 20, 2016

10:00 am

College of Nursing
Friday, August 19, 2016

2:00 pm

College of Optometry
Friday, May 20, 2016

4:00 pm

College of Osteopathic Medicine
Friday, May 20, 2016

10:00 am

College of Pharmacy
Friday, May 20, 2016

4:00 pm

Abraham S. Fischler College of Education
Friday, June 17, 2016

4:00 pm

Shepard Broad College of Law
Thursday, May 12, 2016

2:00 pm

College of Arts, Humanities, and Social Sciences
Friday, June 17, 2016

10:00 am

H. Wayne Huizenga College of Business & Entrepreneurship
(MBA and MIBA)
Friday, June 10, 2016

10:00 am

H. Wayne Huizenga College of Business & Entrepreneurship
(Except MBA and MIBA)
Friday, June 10, 2016

4:00 pm

Halmos College of Natural Sciences and Oceanography
Friday, June 10, 2016

4:00 pm

College of Engineering and Computing
Friday, June 10, 2016

4:00 pm
2016 Undergraduate Commencement Date (Subject to change)
| college | date | time |
| --- | --- | --- |
| Traditional Day Students | Friday, May 13, 2016 | 10:00 am |
| Non-Traditional (evening, online, off-campus) Students | Friday, May 13, 2016 | 4:00 pm |
| College of Health Care Sciences | Friday, May 13, 2016 | 4:00 pm |
| College of Nursing | Friday, May 13, 2016 | 4:00 pm |